April 16, 2014 - 3:30pm to 7:30pm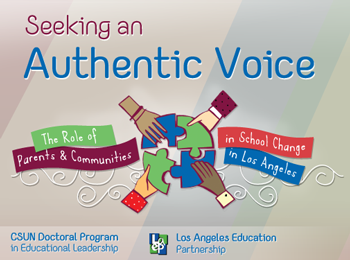 Can parents have a real voice in school improvement and decision-making? What is needed to make it happen?  Join parent activists, community leaders, and educators in a lively dialogue on parent issues in L.A.
The CSUN Doctoral Program in Educational Leadership is partnering with the nonprofit, Los Angeles Education Partnership (LAEP), and campus co-sponsors, to present "Seeking an Authentic Voice: The Role of Parents and Communities in School Change in Los Angeles." This is a rare opportunity for CSUN faculty, staff and students to be part of an exchange of views on parent issues with a diverse panel of parent activists, community leaders, and educators.  A reception will precede the panel, from 5:30 to 6pm.
Panelists include:
Oscar Cruz (Families in Schools)
Mary Johnson (Parent U-Turn)
Georgia Lazo (LAUSD Intensive Support & Innovation Center)
Patty Lopez (Padres Activos en el Valle de San Fernando)
Gabe Rose (Parent Revolution)
John Rogers (UCLA Institute for Democracy, Education & Access)
CSUN co-sponsors are comprised of the Michael D. Eisner College of Education, Center for Teaching and Learning, Oviatt Library, and the Civil Discourse and Social Change Initiative.
Visit the Eventbrite page to RSVP.
For more information, email susan.auerbach@csun.edu or call (818) 677-2403.
Parking is $6.00. This is a free, public forum.  Spanish translation & American Sign Language interpreters will be provided.  Persons with Disabilities/Deaf and Hard of Hearing needing assistance or interpreters, please call in advance for arrangements.
Assistive Services
Requests for accommodation services (e.g., sign language interpreters or transcribers) must be made at least five (5) business days in advance. Please e-mail library.event@csun.edu in advance of the event.