October 04, 2017 - 5:00pm to 8:00pm
Jack & Florence Ferman Presentation Room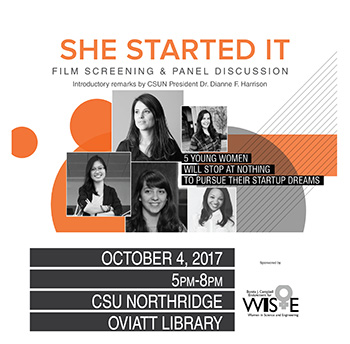 CSUN's Oviatt Library and the Bonita J. Campbell Endowment for Women in Science and Engineering WISE invite you to a film screening and panel discussion of She Started It, with introductory remarks by CSUN President Dr. Dianne F. Harrison.
Launched in 2013, She Started It is a feature length documentary film on women tech entrepreneurs, shot on location in Silicon Valley, NYC, Europe, Vietnam, Mississippi & more, that aims to highlight successful role models for young women. It is the first film to show the behind the scenes of running a tech start-up as a young woman.
RSVP Form
Assistive Services
Requests for accommodation services (e.g., sign language interpreters or transcribers) must be made at least five (5) business days in advance. Please e-mail library.event@csun.edu in advance of the event.