December 23, 2009
Music & Media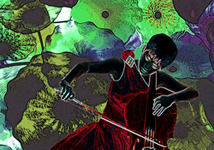 Supporting CSUN's Common Reading Program, this exhibit illustrates passages from Steve Lopez's account of passion and courage in The Soloist, plus highlights contemporary master cellists and explores the anatomy of the cello.
Visitor Information
Parking is $8.00. For more information about parking please see Visitor Information.
To arrange assistance for persons with disabilities, including interpreters for deaf and hard of hearing persons, please call (818) 677-2638 in advance of the event.