December 13, 2021 - 7:00am to December 21, 2021 - 4:45pm
CSUN University Library - Various
Take a break at the University Library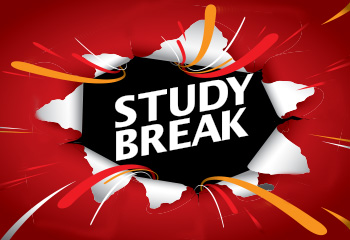 Are you Zoomed out? Do finals have you stressed? Give yourself a break, take a moment to relax and enjoy some of our virtual and in-person de-stressors.
What is happening at the Library?
Open Later
We have extended hours from December 11th through December 20th. See Library Hours for more information.
Finals Survival Kits
FREE Finals Survival Kits available at Guest Services available for CSUN students only. Grab your very own while supplies last.
In Person Activities
Graffiti Board
Monday December 13th through Tuesday December 21st on the Main Floor of the Learning Commons. The good, the bad, and the in-between – tell us how finals are going on our graffiti board!
Arts & Crafts
De-stress and visit our Arts & Crafts table Tuesday December 14th through December 16th. The self-service table with art supplies will be available in the Library Lobby from 10am to 2pm. Each day has its own theme.
Tuesday 12/14: Make your own bookmark
Wednesday 12/15: Origami Mindfulness
Thursday 12/16: De-stress and color
Virtual Programming
Health and Wellness
Restless at home? Stay active, refresh, re-center, or relax!
Guided Meditations & Yoga
Fitness Videos & Classes
Relaxing Sounds & Visuals
Free Mindfulness Apps
Animals and Nature
Live webcams of animals and nature!
Arts and Entertainment
Find fun crafts and activities online!
Fun Online Activities
Virtual Museum Exhibits
Games
Play a game, build a puzzle, or attempt to solve a virtual escape room!
Virtual Games
Virtual Puzzles
Virtual Escape Rooms
Movies and TV
Find a movie or TV show to watch while you unwind!
CSUN University Library Streaming Video
Not finding what you want to watch at the Library? Watch free movies and TV shows with one of these ad-supported streaming services!
Campus Resources
Feeling stressed? You're not alone! CSUN has lots of campus resources to help support you through finals season.