December 10, 2018 - 7:00am to December 18, 2018 - 11:45pm
1st Floor - Learning Commons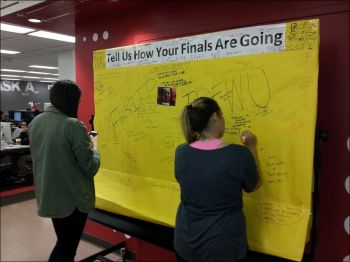 Let out your angst and tell us how finals are going on our graffiti board!
Also, to help you relax and get into finals:
CSUN students can pick up a FINALS SURVIVAL KIT* at the Guest Services Desk. The Kit includes a FREE PILLOW or EARPLUGS and other goodies for use during study breaks while supplies last. See details below.
*Free Finals Survival Kits for CSUN students only. Current CSUN ID required. One Kit per student. Distributed beginning December 8 through December 18, 2018 or while supplies last. Finals Survival Kits can be picked up at the Guest Services Desk in the Library lobby.
Visitor Information
Parking is $8.00. For more information about parking please see Visitor Information.
To arrange assistance for persons with disabilities, including interpreters for deaf and hard of hearing persons, please call (818) 677-2638 in advance of the event.