November 20, 2013 - 6:00pm
Jack & Florence Ferman Presentation Room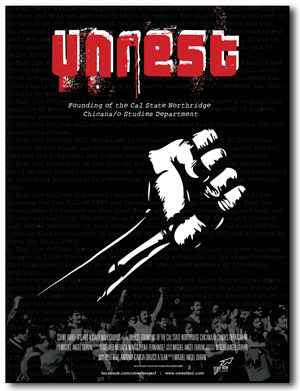 Unrest: Founding of the Cal State Northridge Chicana/o Studies Department – a documentary by Miguel Duran
Unrest captures the undeniable spirit of a courageous few who – against all odds – fought to create an institution of pride and education from which the largest department of its kind was formed.
A brief question and answer period with Miguel Duran will follow the film.
Parking is $6.00.  For information call (818) 677-2638.  Persons with disabilities needing assistance and deaf and hard of hearing persons needing interpreters, please call in advance for arrangements.