Posted on November 05, 2013
November 5th, 2013 marks the one hundred-year anniversary of the completion of the Los Angeles Aqueduct. Special Collections and Archives celebrates this achievement with the release of the digital collection, Water Works: Documenting Water History in Los Angeles, and the opening of the Catherine Mulholland Collection, donated by author and historian Catherine Mulholland, granddaughter of the Aqueduct's chief engineer, William Mulholland.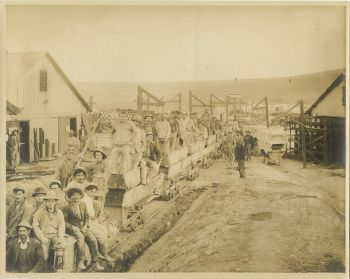 Through the generous support of the Metabolic Studio, a multi-institutional effort has been underway to extend access to historically important materials related to the LA Aqueduct. Water Works is a part of that effort, and provides diverse perspectives on the subject. The database includes numerous annual and other reports from 1906 to 1931 from the Los Angeles Department of Water and Power regarding the Los Angeles Aqueduct, Owens Valley water, and the Saint Francis Dam disaster of 1928. It also includes materials that are critical of the Los Angeles Department of Water and Power, local politicians, and businessmen, accusing them of stripping Owens Valley residents of their rightful water resources. Other materials document efforts by citizens to research and resolve ongoing water-related issues and to educate Californians about them. Finally, the database includes William Mulholland's office files, correspondence, photographs, and publications dating from his tenure at the Los Angeles Department of Water and Power, which document the construction of the Los Angeles Aqueduct, as well as the maintenance of water mains and pipelines, rights of way issues, service matters, and expansion of the City's water distribution system.
The Catherine Mulholland Collection documents Catherine Mulholland's personal and professional life, chronicles the life of her grandfather, William Mulholland, Chief Engineer of the Los Angeles Department of Water and Power, and provides a unique perspective for considering the early social, political, and economic history of the greater Los Angeles area. Most significantly, materials contained in this collection document the many complex issues involved in Los Angeles water history, as well as the important roles played by politicians, political movements, private business and industry, civic organizations, and various governmental agencies in the quest to provide water to the city of Los Angeles. Highlights of the collection include Catherine Mulholland's uncut original manuscript for William Mulholland and the Rise of Los Angeles, early records of the Mulholland Orchard Company, and personal records such as family correspondence, scrapbooks, and photo albums.