Posted on September 28, 2021
Some Peek in the Stacks blog posts are authored by CSUN students who work in Special Collections and Archives. This week's post was written by Brian Opper, an undergraduate student majoring in Screenwriting.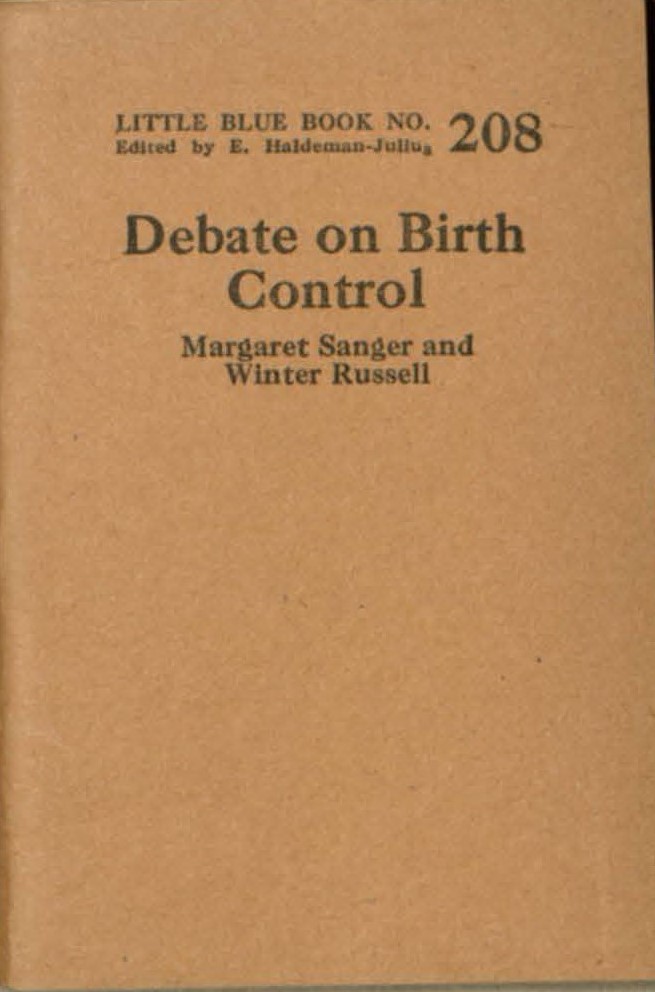 Emanuel Julius (later Haldeman-Julius upon marriage) grew up an avid reader. He was born in Philadelphia in 1889 to Jewish immigrants who had fled the pogroms of 19th-century Odessa. This would lay the groundwork that would later lead him to create the Little Blue Books, a series of pocket-sized books that was published from 1919 through 1978. As a young man, while working in a textile factory, he happened upon writings on the philosophy of socialism. With his new found philosophy, Haldeman-Julius began writing and to his surprise found support within the socialist publication community. Before long he had made a name for himself as the editor of Appeal to Reason, a nationally-distributed socialist newspaper.
With membership declining and inspired by the 10-cent paperback books he read as a teen, Haldeman-Julius decided to buy the publishing house of Appeal to Reason, including its subscriber list, and create his own series of cheap, pocket-sized books that would feature not just classic literature and plays, but also progressive writings on theology, science, and sexuality. These books were what after a few years would become the Little Blue Books. In order to fit the format, some stories would be cut down, including a two-part Dante's Inferno. Titles were sometimes changed to something more lurid, as well, in order to drum up interest and increase sales.
Taking a peek through this collection, one could easily find that despite the difference of 100 years, the same discussions that were being had in the Little Blue Books are being had today. Whether it be the publication of Confessions of an Opium-Eater, in which Thomas De Quincy describes his descent using opium for pain relief into full time opium addict, or the publication of Debate on Birth Control, in which Margaret Sanger and Winter Russell debate whether public education and birth control or self-control was the best method to prevent unwanted pregnancy, one can easily see that the problems of today were also the problems of yesterday. Right down to the call for vaccines for debilitating disease in the face of fear and misunderstanding in Measles, Diphtheria, Scarlet Fever, Chicken Pox, and Whooping Cough.
Additional information on Emanuel Haldeman-Julius and the Little Blue Books, including a list of titles in our holdings, can be found in the Emanuel Haldeman-Julius Little Blue Books Collection.