by Keith Rice, Ph.D., Historian/Archivist, Tom & Ethel Bradley Center
While we are working, attending class, and doing so many other things from home, our blog posts will focus on materials that have been digitized and can be accessed remotely. We'll continue to include links to our finding aids and other information about physical access, as well.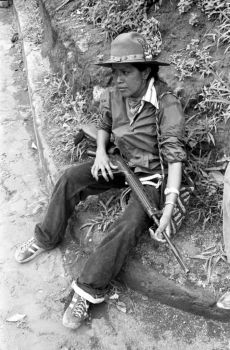 The Tom & Ethel Bradley Center holds the archives of the Richard Cross Photographic Collection. Twelve thousand of those images are being made available on the Library Digital Collections website. Unlike many of the photographic collections in the Bradley Center, the Cross images are not geographically confined to Southern California. Nevertheless, the Cross Collection has historical, cultural, and racial connections to many communities in the Los Angeles area.
Richard Cross was born April 1, 1950, in Kansas City, Missouri. He graduated with a journalism degree from Northwestern University in 1972, and in that same year started his career as a professional photographer working for the Daily Globe in Worthington, Minnesota. Cross then spent four years (1974–1978) as a volunteer in Bogotá, Colombia, working as a photographer and audio-visual consultant for the Peace Corp's Agricultural Communications program. 
In the mid-1970s Colombian anthropologist, Nina de Friedemann invited Cross to join her on a project to document the first Palenque (community of formerly enslaved Black people) in the Americas, Palenque de Basilio, near Cartagena, Colombia. Cross produced thousands of negatives, slides, and prints between 1975 and 1978. The Cross Collection of photographs are the only extensive visual records depicting a community of people of African descent, whose traditions were established in the 16th and 17th centuries. These images document every aspect of life: landscape, architecture, interior design, transportation modes and routes, clothing, hair styles, cattle ranching, bullfighting, funeral practices, farming, cooking, religion, festivities, warrior culture, and entertainment.
In 1979, Cross went north to document the wars raging in Nicaragua, El Salvador, Honduras, and Guatemala, as well as the refugee crisis in Southern Mexico. Cross freelanced for major news outlets including U.S. News and World Report, Newsweek, and the Associated Press. In Nicaragua, the images captured gun battles in the streets, adolescent Sandinistas (both boys and girls) carrying rifles, and the suffering of civilians due to military bombings and street violence. These images were published by dozens of newspapers around the world and helped chronicle the last stages of the Sandinista revolution in Nicaragua.
In El Salvador, Cross's pictures portrayed all aspects of the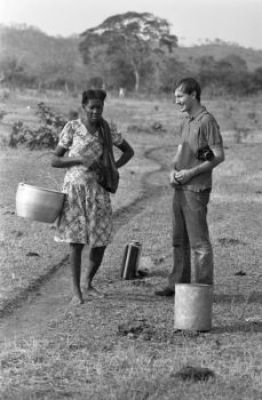 internal conflict: military and paramilitary groups, U.S. advisors, guerrillas, barricades, the 1982 Constitutional Assembly election, and everyday life in the country during that time of turmoil. In Guatemala, Cross chronicled the escalating effects of the military counter-insurgency operation in Guatemala City and the countryside, as well as the refugee crisis that followed, when over 130,000 Mayan peasants fled to the southern Mexican state of Chiapas. Cross's work in Honduras showed the activities of U.S. advisors and the activities of the anti-Sandinista rebels (Contras), who used Honduras as their base of operation. He was nominated for a Pulitzer Prize for his work in Nicaragua.
In addition to Cross's images from Colombia and Central America, two smaller sets of photographs in the collection illustrate less-known features of his work. One set of images includes his early work in the United States both as a photojournalism student in Chicago and during his first job at the Worthington Daily Globe in Minnesota (1972–1973). This work—comprising a variety of subjects, including Black churches, South Chicago arts and culture, landscapes, and Amish communities in the Midwest—captures the human condition in urban and rural communities. A second set of photographs in the collection comprises prints of Cross's work in Tanzania. Starting in the fall of 1979, he pursued graduate work in visual anthropology at Temple University in Philadelphia. As part of that graduate work, in the summer of 1980 he travelled to central Tanzania with fellow Ph.D. student Peter Biella. Cross took thousands of photographs of the Ilparayuko Maasai people for Biella's ethnographic film, Maasai Solutions, in which still photographs were accompanied by a synchronous soundtrack.
On June 21, 1983, while on assignment for U.S. News & World Report Richard Cross and the Los Angeles Times' bureau chief for Mexico and Central America, Dial Torgerson, were killed in a car struck by a land mine in Honduras, near the Nicaraguan border. They were covering the contra war. Cross was only 33 years old and Torgerson was 55.
The Richard Cross Photographic Collection can be accessed through the Library Digital Collection.