The CSUN Librarians Legacy Internship is supported by an endowment to provide internships within Collection Access and Management Services internships for students in an accredited graduate library or information school program. The intern will be supervised by the relevant Collection Access and Management Services (CAMS) Librarian and a stipend of $2500 will be provided at the successful completion of the internship. CAMS internships are available in the following areas: acquisitions, cataloging, collection development, digital libraries, electronic resource management, systems and special collections and archives. The internship may not be offered every semester depending on a variety of issues, including but not limited to the workload, availability of a supervising librarian, the overall staffing levels and needs of the department to ensure that when an internship is offered it will benefit both the student and the Library.
Candidates interested in applying for this internship must:
Be in good academic standing in a graduate library or information school and plan to be enrolled in a credit internship course or other credit fieldwork course during the internship semester.
Be nearing completion of graduate library or information school program coursework.
Have completed at least one course in the specific subject area of interest for specialization for this internship (i.e. Special Collections, or digital libraries). For Cataloging internships depending on the program, student should have completed basic and advance cataloging courses; or descriptive and subject cataloging courses; or a combination of cataloging and metadata courses, for example, would work as well.
Have demonstrated a strong interest in working in an academic library.
Have the ability to complete the required internship hours for the graduate library or information studies program between the hours of 8:30 am to 5:00 pm, Monday through Friday during the spring, fall or summer semesters.
If you are interested in finding out more about this opportunity, please contact Chair, Collection Access and Management Services Chris Bulock at christopher.bulock@csun.edu or (818) 677-6302. Deadlines for applications for the fall semester are July 1; for the spring semester November 1 and for the summer semester May 1. All applications can be emailed to: Chris Bulock, Chair, CAMS at christopher.bulock@csun.edu or mailed to: Chris Bulock, Chair, Collection Access and Management Services, the University Library, California State University Northridge, 18111 Nordhoff St., Northridge, CA 91330-8328.
CAMS Internship Application (.pdf)
Printable version of Guidelines (.pdf)
Previous Interns
Sacha Schneider, Spring 2020
Sacha graduated from Kenyon College with a degree in history. She is now a graduate student in the MLIS program at the UCLA Department of Information Studies. Her interest is to pursue a career in cataloging, more specifically, rare book cataloging at an academic library.
"I completed my CAMS internship during the final quarter of my Master's program, and incidentally, at the start of the COVID-19 pandemic. Though I worked remotely from the confines of my own home, I still found my internship to be an incredibly fulfilling experience. The main project I tackled consisted of cataloging a collection of US Bureau of Land Management sheet maps, using metadata from a shared spreadsheet to locate appropriate bibliographic records, update holdings and create item records. I greatly appreciated the opportunity to expand my cataloging skills to include cartographic resources, as well as gain experience using OCLC Connexion (specifically its web-browser-based iteration) and Ex-Libris Alma, the unified library management system utilized by Oviatt Library.
The CAMS internship nurtured my love of cataloging and helped solidify my professional goals within the LIS field. In addition to the invaluable hands-on experience I gained, I will always cherish the thoughtful mentorship I received from my internship supervisor. As I embark on a new career path, I am eternally grateful for the important skills I learned and connections I forged during my all too brief time at CSUN."
Kimberly McNutt, Summer 2019
Kimberly McNutt completed her Master of Library and Information Science degree from San Jose State University. Her internship in CAMS focused on cataloging and metadata.
"I am so glad to have had the opportunity to be a part of this internship. My goal for this internship was to gain practical, hands-on experience in cataloging and metadata beyond classroom learning. I have many years of experience working in a public library. However, my interests were in cataloging, metadata, and academic libraries. This internship gave me the opportunity to experience the academic library environment and practice cataloging and metadata creation. I worked primarily on cataloging maps, atlases, and other cartographic materials. I also got to work on metadata for digital objects. I gained new skills with the systems used for these projects, including OCLC Connexion, Alma/Primo unified library management system, and CONTENTdm for digital collections. My time at the Oviatt Library confirmed that this is the field of librarianship I want to pursue. I have learned a lot during my time at this internship and feel better prepared for my future career."
Hassan Alamdari, Spring 2017
Hassan achieved a Master's Degree in Library and Information Science from the University of North Texas in 2017. He found his internship at the University Library very rewarding and shared the following insights:
"The goal I hoped to achieve during this internship was to familiarize myself with academic librarianship. My internship involved three different parts of academic librarianship: electronic rights management, the digital repository SOAR (ScholarWorks Open Access Repository), and digital collections. […] I enjoyed all aspects of my internship, not only because it allowed me the chance to solve problems, but also satisfied my need to ensure consistency so that data can be easily found. My time at the Oviatt Library has had a profound effect on me and contributed to my growth as a librarian. I now understand the importance of the work that librarians do in the background, and how it influences a user's experience with the library. This has been an incredible experience to allow for learning and growth, and I appreciate the opportunity that you have given me."

Megan Ozeran, Summer 2016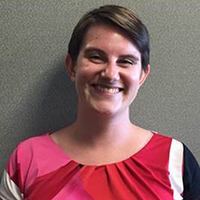 While pursuing her MLIS degree from San Jose State University School of Information, Megan completed a summer internship in the Collection Access and Management Services (CAMS), where she focused on digital services and electronic resources management.
"About halfway through my Master's program I was still struggling to identify the kind of librarian I wanted to become. The CAMS internship allowed me to explore three areas of digital services in a real-world setting: institutional repositories, digital preservation and access, and electronic resources management. I enjoyed all three projects! On the surface they were very different, but ultimately they were all about providing access to important resources. Beyond these specific projects, it was invaluable to see the workings of a large academic library from the inside, which I hadn't previously been able to do as a distance education student from a small town. Everyone I worked with in the Oviatt Library was incredibly welcoming, and they were all happy to speak with me about not only their jobs but how they fit within the university as a whole. Through this internship I gained hands-on experience in digital services, and I felt like much less an outsider when I subsequently applied for jobs in academia. I am eternally grateful for the opportunity!"

Timothy Chu, Spring 2016
Timothy Chu completed his MLIS from UCLA Department of Information Studies in June 2016. During his internship in Collection Access and Management Services (CAMS), Timothy cataloged books and cartographic resources (atlases, maps) for the Geography Department Map Library which are now discoverable through our library catalog and discovery system. Timothy found his internship rewarding and offered the following insights:
"My interest in librarianship is vast and […] I am unsure of where I want my future to lead me. With that in mind, my goal for this internship was to have a better understanding of MARC records. After looking at thousands of MARC records, I have begun to recognize what makes a good record and what makes a poor record. This internship has caused me to think critically about what information users would want when they are searching the catalog and what information is beneficial for them. I believe that his knowledge will help me, no matter where my career leads me. Beginning this August, I am entering the profession as a school librarian at De La Salle High School in Concord, California. While I am lucky to have a second librarian on faculty, I will be expected to perform all aspects of librarianship, from reference and instruction to acquisitions and cataloging. This internship has led me to feel confident in the cataloging portions of my job. I have learned how to navigate controlled vocabularies more effectively and have gained experience in assigning call numbers based upon the contents of the collection. […] As a result of spending time at the Oviatt Library, I have grown as a cataloger and as a professional and feel extremely proud to have time spent at California State University, Northridge on my resume."