August 22, 2020 to July 30, 2021
Online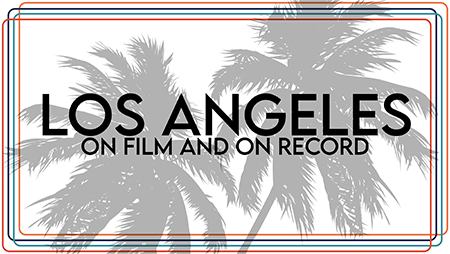 Los Angeles exists in our collective cultural imagination, heavily influenced by depictions of the city on film, though it is also a place of brick and mortar; adobe and asphalt. Los Angeles: On Film and On Record is an online journey through film and archives. It examines a number of popular films that feature the City of Angels within the storyline, setting, or both, and compares these visions, interpretations, and variations of movie Los Angeles with the documentary record of real Los Angeles, using archival and other primary sources from Special Collections & Archives.

The exhibit consists of four parts. Part 1, LA Aspirations, explores its role as a hub of opportunity, while part 2, LA Critique, questions Los Angeles as a site of the American dream. Part 3, LA Living, looks at the ways films and filmmakers have attempted to depict "real" Los Angeles. Finally, Part 4, LA Aesthetic, considers ways LA's landscape, architectural features, and infrastructure appear in films, shaping perceptions of the city.

As you explore the exhibit, we encourage you to consider the choices each filmmaker made, and the version of Los Angeles they chose to present. What truths does each film contain? How do they create or reinforce stereotypes about people and places? Who is absent, misrepresented, maligned, or celebrated in narratives about the city, and why?


The Library Exhibit Gallery is open during Library open hours.