August 31, 2017 to July 1, 2018
University Library Exhibit Gallery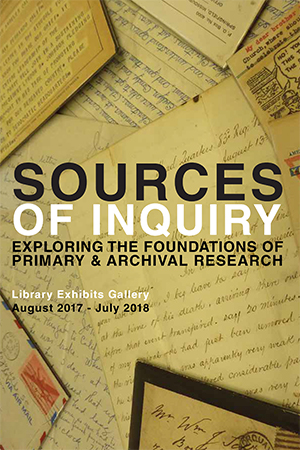 Archivists and librarians at CSUN have been building primary and archival research collections for several decades to help students and other researchers discover and analyze critical information about our collective past. Their great strength and challenge as research materials is that they present information without providing interpretation, analysis, or evaluation. Indeed, those who engage with primary and archival sources often encounter information not seen or considered by others. As a result, they can conduct original analysis, advance new arguments, and draw unique conclusions.
On display in the gallery are items selected from all parts of the holdings in Special Collections and Archives. Rather than leading viewers through an exploration of a particular subject, time period, or theme, the selected items should prompt visitors to consider the strengths and weaknesses of primary and archival sources as research tools.
As you explore the gallery, we encourage you to consider the items selected for display thoughtfully. Ask yourself who produced the item, why they made it, who used it, how they used it, and finally how you as a researcher interested in understanding our collective past, present, or future might draw upon it as source material in a research project today.
An audio tour is available in the Library Exhibit Gallery.
Assistive Services
Requests for accommodation services (e.g., sign language interpreters or transcribers) must be made at least five (5) business days in advance. Please e-mail library.event@csun.edu in advance of the event.

The Library Exhibit Gallery is open during Library open hours.