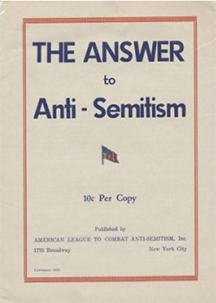 Antisemitism is a form of discrimination which is directed at people of the Jewish faith or at Judaism in general. People who express hostility or hatred toward Jews are considered antisemitic. Special Collections and Archives holds several publications and manuscript collections that are useful for the study of antisemitism in the 20th century.
An early source of antisemitic rhetoric is the Dearborn Independent, published by Henry Ford. Though Ford is often considered a great American innovator, he was also a known anti-Semite. In 1918, Ford bought the newspaper in Dearborn, Michigan. By 1920, the Dearborn Independent was publishing articles that described a "Jewish conspiracy" to control the world. A series titled, The International Jew, the World's Foremost Problem, ran in ninety-one issues, and was later bound into four volumes for distribution through his network of Ford dealerships and to other subscribers. In 1927, a Jewish lawyer named Aaron Sapiro sued Ford for defamation in an article claiming Sapiro was part of a Jewish conspiracy seeking to control the nation's wheat farming. Although the case resulted in a mistrial, the parties reached a settlement out of court, and the Dearborn Independent was abruptly discontinued. Special Collections and Archives holds volumes 1, 2, and of this series of bound articles.
Another resource for research on antisemitism is The Broom. It was published between 1930 and 1965 by Constantine Leon de Aryan. De Aryan was born in Romania as Constantine Leon Legenopol, and immigrated the U.S. in 1912. After receiving a dishonorable discharge from the U.S. Army during WWI, he fled to Mexico, returning to the US when the war ended. In 1926, he became a naturalized citizen, changed his name to "de Aryan," and set out to create a publication that would champion the philosophies and theories of the Aryan race. The Broom was primarily dedicated to expounding reactionary theories on antisemitism, racial purity, war, and interpreting de Aryan's view of Christ's teachings. Special Collections and Archives holds selected issues of The Broom published between 1946 and 1948. In a 1948 issue, President Eisenhower is referred to by a Jewish racial slur, despite the fact that Eisenhower was not Jewish.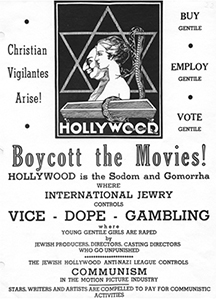 A man named Ulrich Fleischhauer founded World Service, an antisemitic publishing house and news agency, in 1933. Fleischhauer was chief editor until June 1939, when August Schirmer took over. Schirmer was a member of the Amt Rosenberg, the official body for cultural policy and surveillance within the notoriously-antisemitic Nazi party. When Shirmer stepped down in 1943, he was replaced by Kurt Richter, director of the International Institute for the Enlightenment of the Jewish Question. Publication of World Service ended in January 1945. Issues of World Service can be found both in the Library Catalog and in the Jewish Federation Council of Greater Los Angeles, Community Relations Committee Collection, Part 2, 1920-1950.
Organized antisemitism spread across the United States during the 1930s and 1940s, spearheaded by domestic groups like the Ku Klux Klan, and international organizations like Hitler's Third Reich in Germany. In response, the leaders of Los Angeles' Jewish community formed a special defense organization known as the Los Angeles Community Relations Committee. The committee worked with the Anti-Defamation League (ADL) and Jewish and Zionist organizations to fight antisemitism in the United States. The records of the Jewish Federation Council of Greater Los Angeles, Community Relations Committee Collection have been processed into three parts (1, 2, 3), forming a valuable resource for those studying antisemitism. The collection documents the committee's efforts to combat prejudice, and educate the public through cooperation with both Jewish and non-Jewish groups. Series 2 of the Jewish Federation Council Collection, Part 2, might be especially relevant for those studying antisemitism. Some of the materials described above are available in our online exhibit In Our Own Backyard: Resisting Nazi Propaganda in Southern California, 1933-1945.