"More than gold and oil, railroad and freeway construction, the film and aerospace industries, water distribution has shaped the development of California's cities and countryside. Nowhere is the vital significance of water more obvious than in Los Angeles…"
--William L. Kahrl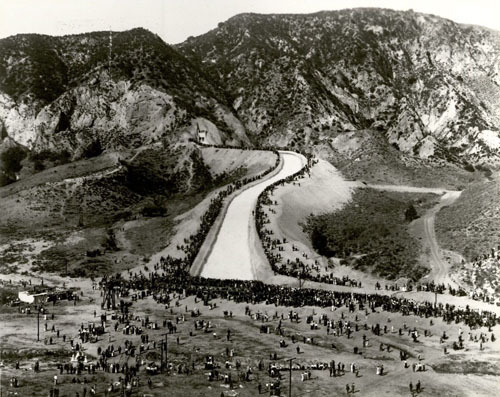 Water history, particularly the controversy surrounding water rights and access, has dramatically and incontrovertibly shaped the growth and development of Los Angeles.  Nearly 100 years ago, the dedication and opening of the Los Angeles Aqueduct on November 5, 1913 was the culmination of many years of work on the part of William Mulholland and others at Los Angeles' Department of Water and Power. More than any other civil engineering project, the Los Angeles Aqueduct's opening resulted in rapid growth throughout the greater Los Angeles region.
The water that flowed into Los Angeles through the aqueduct proved to be a powerful enticement for tourists, investors, and settlers, who would not only stimulate economic growth, but would ultimately shape the character of the city. Over the next several decades, the lure of seemingly endless fresh water would eventually lead to the annexations of outlying communities, including much of the San Fernando Valley, and increasing the city's sprawl by more than fifteen times its original size.
At the source of the Aqueduct in the Owens Valley, this history has been interpreted through a very different lens.  Conflicts over what some see as questionable practices by federal and local officials ultimately led to violence and sabotage by Owens Valley residents in the 1920s, and fueled a debate which has continued for more than ten decades.
Special Collections and Archives holds several collections that document various aspects of this important history, some of which the library has received special funding to process and digitize. These include the Catherine Mulholland Collection, Andrae B. Nordskog Collection, Duane Georgeson Papers, Homer Halverson Collection, and many others. Representing many sides of numerous complicated water issues in greater Los Angeles and southern California, these materials provide a unique glimpse into water politics and policy in Los Angeles over the last 100 years. For moe information and resources on local water history, please see the Water Works Digital Collections.