Posted on October 08, 2013
Los Angeles is known for its music scene, with legendary clubs like the Troubadour and the Roxy hosting and even launching some of the biggest acts in the history of popular music. While many people think of Hollywood as the hub for rock music in LA, in the 1980s some of the best acts actually came to play half an hour away in Reseda in the San Fernando Valley. One block of Sherman Way in Reseda was home to some of the most iconic venues at the time, including Bebop Records and Fine Art, a small record store that doubled as a performance venue for the thriving underground music and art scene in the area. Special Collections and Archives holds the Richard Bruland Bebop Records Art Posters Collection, which documents both the numerous performers that appeared at Bebop as well as owner Richard Bruland's skill and vision as a contemporary artist.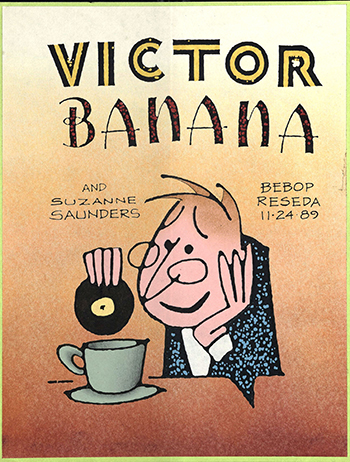 Bebop Records and Fine Art opened in Reseda in July 1982. The owners, René Engel and Richard Bruland, had both previously worked in retail record stores and conceived Bebop Records as a space where local, new, and underground artists could be discovered or share their art. Bebop functioned during the day as a record store, selling used and independent records, as well as an art gallery devoted to showing contemporary fine art. At night, the back of the shop became a small performance space, holding 49 folding chairs for the audience, who could also browse the records racks during the show if so inclined.
Bebop held four or five performances a week of different music acts and spoken word performers, eventually adding in open mic nights once a month for locals to try their hand at poetry reading. While performers such as Jane's Addiction, Los Lobos, and Henry Rollins were among those who played at Bebop, most of the acts that performed were less well known, in part because of the small venue, but also because Bruland and Engel sought to book more personal acts that might not have found another venue willing to house them. The intimate space at Bebop soon became a favorite for both performers and audience members, who often likened a show there to having performers in your living room. As a result, acts were often booked months in advance and holding performances eventually became the main avenue for the record store to get people in the door and buying albums.
Bruland, who became the sole proprietor of Bebop after Engel left the business in 1985, was also a contemporary artist who studied at the School of the Art Institute of Chicago as well as the California Institute of the Arts. For every show held at Bebop Records, he created an original poster to hang in the front window, with his favorite posters then gaining a permanent spot hanging on a wall in the store. The posters all fit on a standard 8½ by 11 sheet of paper, and utilize pen, ink, photocopied images, and other techniques to create a variety of styles of art tailored to fit the advertised act.
Bebop Records held performances until June of 1990, when after being cited by the police for holding performances without a permit, Bruland decided to close the store to concentrate on his art and family. In the course of its 8 years Bebop booked hundreds of music and spoken word performances, and Bruland's collection contains approximately 800 of his art posters. These posters are a great resource for anyone interested in Reseda's history, the underground punk/new wave scene in the San Fernando Valley, or Bruland's work as an artist.