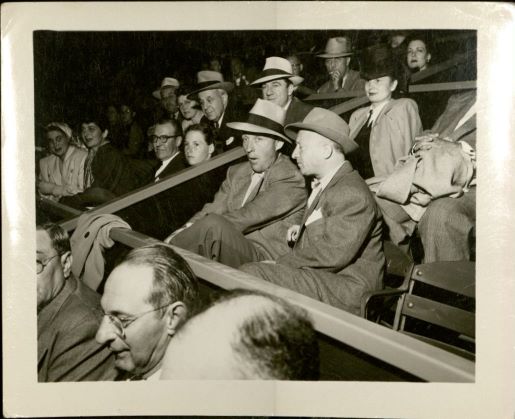 The Musicians, Singers, and Actors Photograph Collection is one of over 500 archival collections housed in Special Collections & Archives. In total, the collection has 83 images with most of them being printed photographs. A small portion of images are cut out of magazines.  
One folder in the collection is labeled "Candid Celebrity Photographs," with the top photograph being from about 1954. The caption "Bing Crosby watching a Hollywood Stars baseball game at Gilmore Field" is written on the back of the photograph. The Hollywood Stars were a minor league baseball team based in Los Angeles from 1926-1957. In 1958, the Brooklyn Dodgers moved to Los Angeles. At the same time, the Hollywood Stars moved to Salt Lake City, Utah and were renamed the Salt Lake City Bees. Today, the Salt Lake Bees still play baseball in Utah. Gilmore Field doesn't exist anymore, but at the time it was located near Beverly and Fairfax in what is now the parking lot of the CBS Television City studio lot. 
Another is labeled "Promotional Photographs for Guys and Dolls." This 1955 film was nominated for four Academy Awards and two Golden Globes. The fourth photograph in the folder features Marlon Brando, Jean Simmons, Frank Sinatra, and Vivian Blaine. Marlon Brando went on to win the 1972 Academy Award for Best Actor for his work in The Godfather, although he declined the award.  
A folder labeled "Autographed Headshots of Musicians and Singers" includes an autographed photo of Fred Lowery, a professional whistler. Lowery went on to record 11 whistling albums. Lowery's 1960 album was called Whistle a Happy Tune (released by Decca).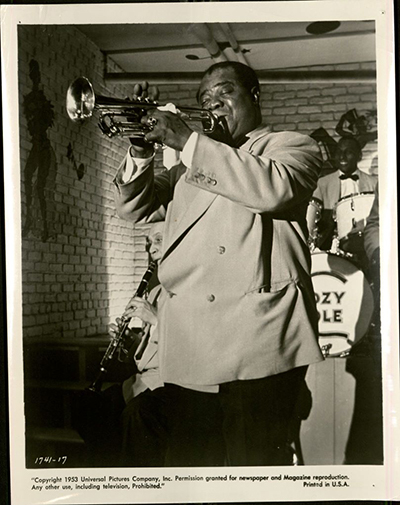 "Musicians, Band Leaders, and Singers" includes photos of famed jazz musician Louis Armstrong. Working as a trumpeter and vocalist, Armstrong was inducted into the Down Beat Jazz Hall of Fame in 1952.  
Another folder, labeled "Photographs of Plácido Domingo," contains thirteen photographs of the opera singer and conductor, Plácido Domingo. The folder includes two photographs and one autographed program from the 1998 Metropolitan Opera production of Samson and Dalila. 
A folder titled "Promotional Headshots from Record Companies" holds a photograph of pianist, organist, bandleader, and composer, Count Basie. In 1958, Basie became the first African American to win a Grammy Award. Folder six also holds a picture of the vocalist Peggy Lee. At one time, Peggy Lee sang with Count Basie, Frank Sinatra, and also Quincy Jones. 
Box two of the collection holds a folder labeled "Headshots of Actors."  Among others, you will find a picture of actress, singer, dancer, and author Janet Leigh. In 1960, Leigh won the Golden Globe for best supporting actress for her work in the film Psycho. This folder also has two very large photographs of actor Richard Cromwell who was active in the 1930s and 40s. Cromwell was married to Angela Lansbury for a short time in 1945. There is also a picture of Kim Novak from the 1957 film Pal Joey. This film had four Academy Award nominations. 
 
Finally, a folder labelled "Promotional Photographs of Actors for Film" contains ten photographs. One is a picture of James Stewart and June Allyson from the 1954 film The Glenn Miller Story. There is also a photograph of Humphrey Bogart from the 1944 film To Have and Have Not. 
Our Musicians, Singers, and Actors Photograph Collection is just one of hundreds of archival collections we hold. There are many others to explore.