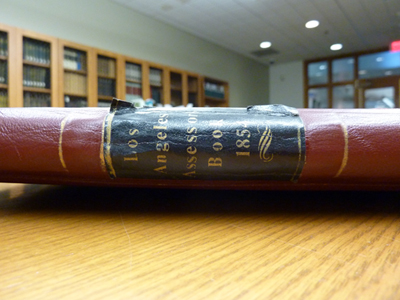 Many consider Los Angeles a relatively young city, with a unique but primarily 20th century history. Special Collections and Archives holds several resources that document LA's  earlier, 19th century history, especially the years immediately following the Mexican-American War, and California's early statehood. One of these resources is the Los Angeles Assessor's Book (Duplicado del Libro de Avaluos), dated 1854, in which Los Angeles County Assessor Antonio Franco Coronel painstakingly recorded descriptions and values of real and personal property owned by the residents of Los Angeles in the first decade of California's statehood.
Coronel originally arrived in Los Angeles in 1834, at the age of seventeen. He served in a number of public offices in California prior to the Mexican-American War, while California was under Mexican rule.  Among other positions, he served as Assistant Secretary of the Tribunals of the City of Los Angeles (1838), Judge of the First Instance (1843), Captain of the Auxiliary Companies and Visitor of the Southern Missions (1844), Representative to the General Congress of Towns (1846), and Member of the Body of Magistrates in charge of regulation and order of Irrigation (1847-1848).
During the Mexican-American War (1846-48), Coronel fought against US forces serving as a Captain and Sergeant-at-arms in the Mexican Artillery. In 1850, with newly-minted US citizenship, he stayed in Los Angeles, becoming the county's first County  Assessor. Just a few years later, he became mayor of the City of Los Angeles. As recorder of official property ownership information, Coronel noted numerous surnames recognizable by today's Angelenos, albeit often as street or neighborhood names, including Pico, Sepúlveda, and Verdugo, among others.  
The Pico family came to the San Gabriel Mission from Sinaloa with the Anza expedition of 1775. Andrés Pico was born in San Diego in 1810, the younger brother of Pío Pico who served as governor of the Mexican Alta California Province (1845-1846). During the Mexican-American War, Andrés Pico successfully commanded Mexican forces, and in 1847 was briefly appointed as the acting Governor of Alta California. Andrés Pico is perhaps best known for signing the Treaty of Cahuenga, an informal agreement that called for the surrender of Mexican forces in exchange for American Citizenship.  Following the Mexican-American War, Pico bought a half interest in Rancho Ex-Mission San Fernando, which essentially made him owner of the southern half of the San Fernando Valley, up to the Santa Monica Mountains.
The Sepúlvedas were also prominent land owners in early Los Angeles history. Francisco Xavier Sepúlveda was a Mexican colonial soldier, who came to Alta, California with his wife and six children in 1781. Two of Sepúlveda's sons, Juan José Sepúlveda (1764–1808) and Francisco Sepúlveda (1775–1853), with their descendants, held title to numerous Ranchos which should also sound familiar to today's Angelenos, including San Joaquín, Santiago de Santa Ana, Las Cienegas, San Vicente, and Santa Monica.
In 1784, Corporal José María Verdugo, a Spanish soldier who had served with the 1769 Portola-Serra Expedition, received a provisional eight square league grant of the Rancho San Rafael, delineated by the Verdugo Mountains, Arroyo Seco, and the Los Angeles River. When Verdugo died in 1831, he left his property to his surviving son Julio Antonio Verdugo (1789–1876) and daughter María Catalina Verdugo (1799–1837). These areas today make up some of the eastern portion of the San Fernando Valley and the San Gabriel Valley, including Glendale, Eagle Rock, La Cañada, Montrose, and Verdugo City.