The Los Angeles Newspaper Guild was chartered in 1937 as a local chapter of the American Newspaper Guild. The Guild organized and represented newspaper employees throughout Los Angeles, Santa Barbara, Orange, and San Bernardino counties in grievances and collective bargaining negotiations. The Los Angeles Newspaper Guild Collection is particularly rich in its coverage of the Los Angeles Herald-Examiner strike, which lasted almost 10 years.
Paul Kelly was president of the Los Angeles Typographical Union, Local 174, while the organization was a member of the Herald Examiner Joint Strike-Lockout Council. The Paul Kelly Los Angeles Typographical Union, Local 174 Collection consists of photographs, films, and other items which also document the 1967 strike at the Herald-Examiner.
The Los Angeles Herald-Examiner was a Hearst newspaper started as the Los Angeles Examiner in 1903. The Examiner and its predecessor titles survived a number of labor disputes, but the last strike, which went on from 1967-1977, is often described as a precursor to the newspaper's demise in 1989.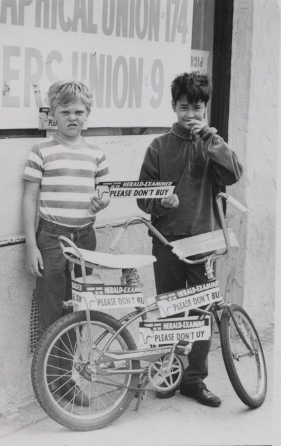 After contract negotiations between the Herald-Examiner and its employees stalled in 1967, the Los Angeles Newspaper Guild (LANG) called a strike on December 15 of that year. Owner William Randolph Hearst, Jr. hired a number of professional strike breakers, often referred to as scabs, to keep the paper going, as well as Pinkerton Guards to maintain security, protect the strike-breakers, and monitor the strikers. Throughout the strike there were numerous violent incidents between pickets and strike-breakers as well as confrontations between the Pinkertons and the Los Angeles Police Department.
The LANG strike had a devastating effect on the Herald-Examiner. Pickets marched in front of businesses that advertised in the paper. Its circulation dropped from 750,000 in 1967 to less than 400,000 in 1968 and continued to drop annually from that point on. Despite this pressure, Hearst refused to reach a settlement.
The Los Angeles Newspaper Guild received help from a number of powerful labor organizations, including the Los Angeles County Federation of Labor, which sent organizer Bill Robertson to help run the strike. A number of important labor leaders emerged from the strike, including Jerry Goldberg, Jim Bennett, and Dan Swinton. LANG continued to pay strike benefits for several years while a handful of workers continued to picket at the downtown plant. Gradually, the strike began to dwindle as striking workers left and found employment elsewhere.
The strike ended in March 1977, having caused dramatic losses to circulation revenues, and the Herald-Examiner finally closed its doors on November 2, 1989. Its home, a Mission Revival-style building, was designated an historic landmark in 1977, and still stands empty on the corner of 11th and Broadway in downtown Los Angeles.