Posted on October 15, 2013
Some Peek in the Stacks blog posts are authored by CSUN students who work in Special Collections and Archives. This week's post was written by Zac Burgenbauch, a student assistant in the Urban Archives. Zac is a senior majoring in Music with a focus in Composition.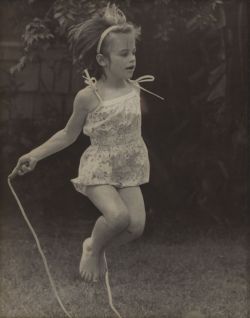 Bess Lomax Hawes (1921-2009) was a folk musician, folklorist, and professor of anthropology at San Fernando State College (now California State University Northridge). During her time as a musician she wrote many songs, including the Kingston Trio hit "M.T.A." She also performed and collaborated with such American folk luminaries as Pete Seeger and Woody Guthrie. Her father, John Avery Lomax, and brother, Alan Lomax, were famous folklorists and musicologists who traveled across the United States collecting thousands of folk songs and interviews for the Archive of American Folk Songs in the Library of Congress.
Hawes became a part of the Anthropology Department at San Fernando Valley State College in 1963, where she taught several classes on folk music and folklore. The Bess Lomax Hawes Student Folklore Collection consists of findings and data collected by students enrolled in her anthropology classes between 1958 and 1977. The collection covers an immense range of subjects, including American folk song lyrics, Romanian proverbs, and detailed descriptions of the games of schoolchildren. 
One of my favorite parts of the collection is the section on  children's games. One student sought out to document the numerous "string games" played by people, describing the nature of the various games and taking detailed pictures of the many patterns such as the cat's cradle. The student even included a preserved yarn example of the "Jacob's ladder."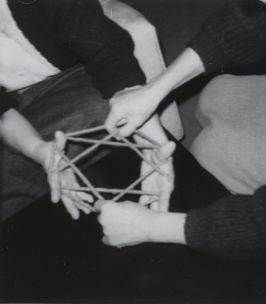 However, the collection doesn't just consist of trivial odds and ends. Included in one section is a student interview with the famous blues singer Taj Mahal, conducted in 1967 from his Santa Monica home. Throughout the interview Taj describes how he developed his lyrics by sprinkling both humorous anecdotes and serious insights. At one point he tells how "[t]he basis to singing blues is to know the blues, to be out of money, the whole thing. You really have to do it, to feel it, to understand it. It really takes an awful lot."
No matter if you are looking for the lyrics and transcription of an old folk song, culture specific remedies from Jamaica, or a collection of jump rope rhymes from the schoolyards of the 1960s ("my mom gave me a nickel to go buy a pickle..."), this collection should keep you thoroughly entertained with all its unique folkloric quirks.