Posted on November 12, 2013
Some Peek in the Stacks blog posts are authored by CSUN students who work in Special Collections and Archives in the Oviatt Library. This week's post was written by Omar Cerda, a student assistant in the Urban Archives. Omar is a junior majoring in Marketing.
World War I, also called the Great War, took the lives of more than 9 million people, and devastated millions more. It also brought invention, destroyed long standing empires, redrew some political borders, and created new ones. Like all wars before and since, it separated families, and had a dramatic impact on the social welfare of all involved nations.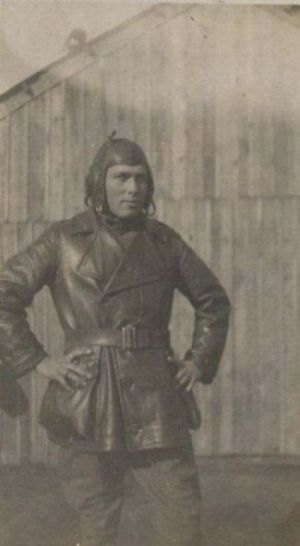 There are a number of collections held in Special Collections and Archives that address issues associated with World War I. Among them is the Raymond Gleason Correspondence Collection, which provides a glimpse into the hardship faced by American military men during war. Ray Gleason was born in 1896 in Racine, Wisconsin and served in the United States Navy. On November 11, 1918, the Armistice of Compiègne would signal a ceasefire and victory for the Allied forces, but it would be another six months of negotiations at the Paris Peace Conference before the Treaty of Versailles officially ended the Great War, during which many soldiers remained overseas. Family correspondence was very important to servicemen and Raymond Gleason was no exception. As he writes to his mother in 1918 on Christmas Day, "I am feeling disgusted to-day. It is the bumest Xmas I ever spent…we have been eating canned meat and sauerkraut canned in 1912 & 1913...You sometimes may think you have troubles in life & disappointments but I must say the people are in a terrible fix over here. What an awful life they have to live."
Weapons were not the only thing that killed during the war. In 1918 the Spanish Flu pandemic infected 500 million people  around the world, ultimately killing more people than died in combat in the war itself. People were scared, not only of dying by a soldier's gunshot, but of dying a slow, painful death after catching the flu. Alton Flanders, who served in the 2nd Battalion, 5th Marines infantry battalion in France, wrote a letter home that is included in the Alton L. Flanders WWI Correspondence Collection. In it he writes that he had the flu while in France, and was hospitalized for 2 months.
Many inventions and innovations came out of World War I, as well. In the American Expeditionary Forces (AEF) Photo Album we see some of the first aerial photographs, as well as photos of airplanes, pilots in flight gear, and a zeppelin. Zeppelins and weather balloons were used for reconnaissance during World War I. Airplanes were also used for this purpose initially, but were later used for other combat purposes. Planes were equipped with machine guns, and adapted to hold bombs, at which time they became machines of destruction rather than observation. Naval battle, like air battle, was also an important part of World War I. Donald Hiram Stilwell, a member of the U.S. Navy and a photographer, was stationed in France during the war. He was able to capture images of ships being destroyed, one of which was cut in half. These images are a part of Donald Hiram Stilwell Photograph Collection, and, like all the collections mentioned in this post, can be viewed in Special Collections and Archives.