Over the course of the 1920s, attempts were made to unionize West Coast Longshoremen. However, it wasn't until passage of the short-lived National Industrial Recovery Act (NIRA) in 1933 that West Coast Longshoremen had effectively organized. By early 1934, longshoremen across the length of the Coast from San Diego to Juneau were unionized. Certain provisions of NIRA compelled the industry to adjust operations in a manner that would not only help stimulate economic recovery in the midst of the Great Depression, but also address the needs of workers.
To this end, the International Longshore Association (ILA) delegates to the Pacific Coast District Convention (February 25 to March 6, 1934), named a negotiating committee to meet with the employers' representatives. Major points of disagreement in many of the negotiations that would follow were issues of collective bargaining, the closed shop, and union hiring halls. When these union demands were not properly addressed, membership voted overwhelmingly to strike. Intervention by President Franklin Roosevelt delayed the strike but could not stop it.
Adding fuel to the strike was the support of other maritime workers, including sailors, engineers, pilots, cooks, and other marine unions, making this an industry-wide strike. Strikers in San Francisco were scrutinized particularly closely as that city was home to the largest ILA local, a number of other maritime unions, and to most of the ship owners.
While politicians and citizen committees in several cities, including Seattle and Tacoma, attempted to reopen their cities' ports, these attempts often resulted in physical conflict between strikers, "scabs," police, and private armed guards. The first major incident occurred on May 15 in Wilmington, California (Port of Long Beach) when 20 year old "Dickie" Parker and several others were shot while leading a "raid" on a scab stockade, an encampment built on the wharf by the employers and designed to house and feed replacement workers. These stockades enabled replacement workers access to the docks without the need to cross picket lines.  Parker died en route to the hospital and striker John Knudsen died in the hospital weeks later (June 5).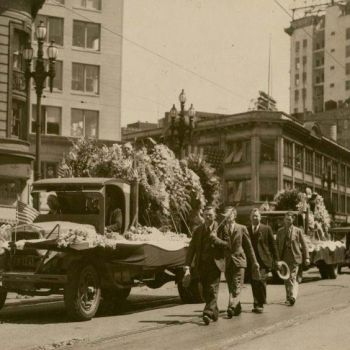 Legislation passed by Congress in June 1934 empowered the President to establish boards of investigation and arbitration in labor disputes. When the initial effort of the National Longshoremen's Board (NLB) failed, ship owners determined to reopen the Embarcadero in San Francisco. The first attempt was made on July 3, but it is Thursday, July 5, 1934 that is still commemorated by the International Longshore and Warehouse Union (ILWU) membership as "Bloody Thursday." Two men, Howard Sperry and Nick Bordoise, were killed and several others wounded during a confrontation on Rincon Hill. Within hours, the National Guard was onsite. Tensions were particularly high July 9 when thousands marched down Market Street for the funeral procession.
The San Francisco Labor Council declared a general strike on July 15, 1934. It was a peaceful and effective strike that lasted but a few days. Both sides agreed to arbitration by the president's NLB and the general strike was suspended. An agreement was reached via arbitration in the Fall of 1934.
This strike marked an end to many employer-dictated labor policies. Modern working conditions that are chiefly taken for granted today find their beginnings in early union work stoppages such as this, union members "… striving not only for a job worth having, but also for the belief that workers have a right to share in the wealth they create." 
Special Collections and Archives houses multiple ILWU collections, including the International Longshoremen's and Warehousemen's Union (ILWU), Local 13 Records, Part I, Part II, Part III,and the International Longshoremen's and Warehousemen's Union (ILWU), Local 13 Oral History Project Collection ILWU, Local 13. Also available is a PBS documentary Bloody Thursday.