While we are working, attending class, and doing so many other things from home, our blog posts will focus on materials that have been digitized and can be accessed remotely. We'll continue to include links to our finding aids and other information about physical access, as well.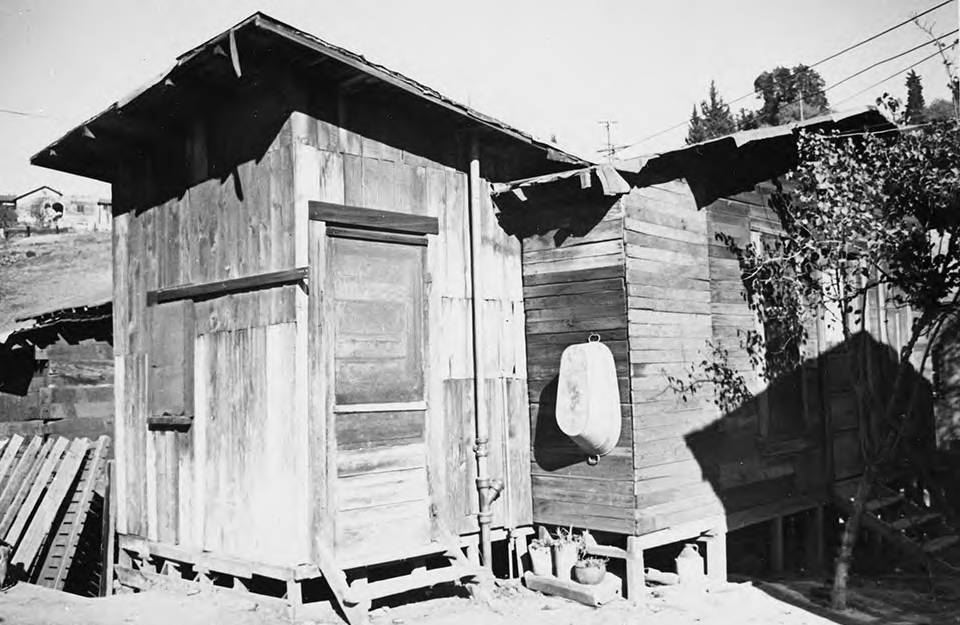 According to the Greater Los Angeles Homeless Count, in 2019 the number of unhoused people in Los Angeles County rose 13% from the previous year to over 66,000 people. It remains to be seen what the numbers will look like for 2020, which saw the highest rise in unemployment on record since World War II. With a statewide eviction moratorium set to expire in June 2021 and many unhoused individuals being driven out of encampments, like the one recently cleared at Echo Park Lake, the question of how best to address homelessness and housing insecurity has become the subject of contentious debate.
This crisis does not exist in a vacuum and while the circumstances of the COVID-19 pandemic have exacerbated an already dire situation, the city has struggled to adequately address housing insecurity and homelessness for well over a century. The Poor Housing Conditions in Los Angeles Scrapbook provides a look at the conditions many Angelenos lived in following the Great Depression at a time when there were few affordable housing options in the city. Created by the Los Angeles Bureau of Housing and Sanitation in 1938 to document "slum" conditions in Los Angeles, the scrapbook accompanied a report that was used to advocate for clearing these areas and appeal for federal funds to construct public housing projects across the city. Not unlike today, the debates around how best to address the lack of affordable housing in the city was politically divided. In fact, the federal government reduced its original $25 million public housing allotment to $15 million because the projects were increasingly delayed due to constant infighting within the city's government.
Many of the photographs include location information and while some addresses, streets and intersections no longer exist, some can still be identified using Google Maps. For instance, searching Google Maps reveals two locations pictured in the scrapbook were eventually turned into public housing projects, Rose Hill Courts in Montecito Heights and William Mead Homes in Chinatown.
Other photos can be mapped to Downtown Los Angeles and specifically to areas in and around Skid Row. Skid Row has been a central location of homelessness in LA since the late nineteenth century when a community of transient laborers established itself near a Southern Pacific Railroad depot at Fourth and Alameda. Many of these laborers lived in cheap apartments, residential hotels and other low-cost accommodations in the area while others set up residences in undeveloped areas outside of Skid Row.
View more images from the scrapbook as well as photos from the Los Angeles Slums and Fire Hazards Photograph Collection in the Poor Housing Conditions in Los Angeles, 1938-1949 digital collection.