Posted on November 19, 2013
Natural disasters, as most of us know, are inevitable and can be very damaging. Los Angeles often experiences earthquakes, fires, and occasionally floods. In recent years, LA has experienced tsunami scares, tornados touching down, and major fires. Special Collections and Archives holds several collections that document various disasters occurring in and around the Los Angeles area within the past century.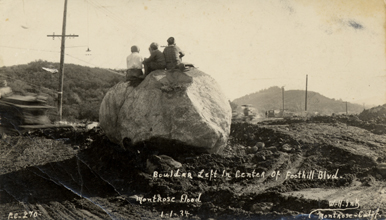 In 1934, a terrible flood raged through the foothills of the San Gabriel Mountains, in the La Crescenta and Montrose areas. The Little Landers Historical Society has donated some dramatic photos of this flood to the Digital Library, including one of a partially buried automobile and another of three little boys sitting atop a large rock brought down out of the mountains onto a major thoroughfare.
In 1971, the Sylmar earthquake devastated parts of Los Angeles County. The epicenter was in Sylmar near the Olive View Hospital. This earthquake caused major damage to homes, buildings, and government property. The Duane L. Georgeson Papers and the San Fernando Earthquake Damage Photo Collection contain records and photographs which document the damage caused by the quake, the magnitude of which can be seen in several photographs. The Georgeson collection contains reports of damage to the Van Norman Dam and the dam's rebuilding process, including state government involvement. 
In addition to documentation of natural disasters, collections also contain some records about preparing for them. The Los Feliz Improvement Association Records includes emergency plans which demonstrate how effective a community can be when they pool their skills and resources to create a comprehensive disaster preparedness plan. This collection contains documentation about the Los Feliz community's efforts to work with the Los Angeles Fire Department and, through training, learn how to conduct drills and prepare effectively.  On October 17th the State of California conducted the 2013 Great California ShakeOut to prepare for an earthquake which many people were involved, including California State University, Northridge.