In 2002, writer Emory Holmes II set out to establish a Poetry and Writers workshop at the Northeast Valley Senior Center in Pacoima, California. The project, entitled "Stories from my Hometown," was largely funded by the Los Angeles Cultural Affairs Department, Regional Arts Grants Program. As a key component of the workshop, elder citizens, local historians, and senior leaders living in the Northeast San Fernando Valley participated in oral history interviews which focused on migration stories and personal memories. In a culminating event, participants performed their original stories and poems and exhibited a collection of photographs and artifacts that represented their personal experiences. In partnership with CSUN's Urban Archives, each of the oral history interviews were preserved and made available for research under the title, Northeast Valley Oral History Project.
The Northeast Valley Oral History Project contains twenty-one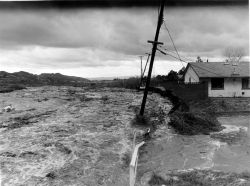 audio interviews of individuals who grew up or settled in northeast San Fernando Valley cities, such as Pacoima, Sylmar, Lake View Terrace, Arleta, and San Fernando between the 1920s and 1970s. This area of the San Fernando Valley has a rich and interesting history that has rarely been studied. The interviewees include an array of ethnically-, racially-, and culturally-diverse individuals, from a wide variety of socio-economic backgrounds.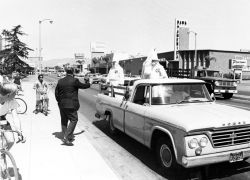 While the project was intended to capture the personal experiences of individuals, the interviews also provide a valuable resource for researchers studying important events and issues, such as the first and second Great Migrations of African Americans, the Bombing of Pearl Harbor, US entry into WWII and Japanese Internment, the transition from agricultural to industrial economy in California, discrimination in housing, education, and employment, the effects of natural disasters such as earthquakes and floods, commercial development, housing trends, the evolution of transportation and road building in Southern California, social and cultural customs and traditions, religious practices, and trends in education.
Since the 1960s, oral histories have gained increasing popularity as important research resources, providing first-hand information about people, places, and events which may have been excluded from mainstream publications or scholarly literature. As a supplement to quantitative research, oral histories may reveal contextually relevant information that serves to support other forms of scholarly information, adding breadth and human dimension to the research experience. Images of some of the individuals interviewed for the Northeast Valley Oral History Project can be found in the University Library Digital Collections.