Some Peek in the Stacks blog posts are authored by CSUN students who work in Special Collections and Archives. This week's post was written by Will Wyse, a student assistant in the International Guitar Research Archives. Will is a senior majoring in Guitar Performance, and is this year's Purcell Fellow.
The Motion Picture Screen Cartoonists Guild (MPSCG), then called the Hollywood Screen Cartoonists, created its constitution in 1937. Acting as an advocate for animators, the MPSCG fought for member representation in wage and hour disputes, and aimed to establish itself as the sole bargaining agent for major animation studios. The Guild gathered considerable momentum in the 1940-1941 Walt Disney Studios strike, gaining the membership of almost all of the involved animators.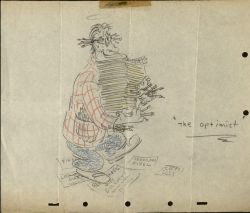 The tumultuous disputes with Walt Disney Studios began when Walt Disney denied certain animators overtime, although they had worked extra hours to meet deadlines. By this time, the MPSCG already had a contract with Terrytoons, a New York based animation studio that went on strike over the firing of several unionized animators.
Though Walt Disney Studio animators were unionized under the Federation of Screen Cartoonists, the MPSCG accused the studio of sponsoring a company-operated union. At the height of the strike, an estimated 70 percent of the nearly 700 striking animators belonged to the MPSCG, with new members joining almost every day.
The strike itself was won in 5 weeks, but the real success was the Guild's recognition as the sole bargaining agent for Walt Disney Studios – an effort that took several months. Although the Walt Disney Studios strike was the most significant action prompted by the organization, the Motion Picture Screen Cartoonists Guild Collection contains many important documents from other contracts. These include photographs and correspondents of the Terrytoon strike in New York, documents from the Federation of Screen Cartoonists, speech notes from members of the Screen Cartoonists Guild, informational leaflets, and a technical manual for studio animators.