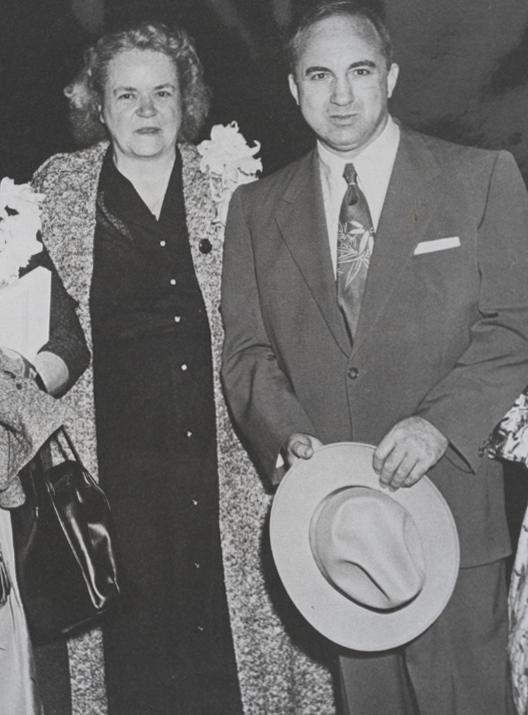 Agness Underwood was a Los Angeles newspaperwoman for forty-two years. During the 1930s and 1940s she was one of the city's best-known court and police reporters. In 1946, she became city editor of the Herald Express, a post she held for seventeen and a half years. No man had ever held the job more than four years. At the time she was the only female city editor of a major American metropolitan newspaper.
During her editorship she helped push the Herald's circulation up over 700,000, making it the largest afternoon daily in the west at that time. She retired as the paper's assistant managing editor in 1968. The Agness M. Underwood Collection consists predominantly of articles, correspondence, newspaper clippings, photographs, speeches, typescripts, and galley proofs for her book, Newspaperwoman, which combine to document her career and family life.
In her autobiography Underwood tells her life story. After growing up as an orphan in Indiana, she moved to San Francisco at age 17 to join an aunt who disappeared soon after her arrival. From that time on, Underwood supported herself. Her first job in LA's newspaper business was a temporary position as a switchboard operator with the LA Record. She would go on to become one of the city's most respected police reporters.
In 1980 Underwood filed a libel suit against Jimmy "the Weasel" Fratianno when his book, The Last Mafioso, alleged that she purposely ran a false story at the behest of friend and mobster Mickey Cohen. Although it is not clear in Underwood's book how she and Cohen became acquainted, she tells another well-known story: that of Mickey Cohen producing letters actress Lana Turner sent to her lover, Johnny Stompanato, after he was stabbed to death by Turner's 14-year old daughter, Cheryl. Stompanato had been Cohen's bodyguard.
Cohen was convicted of tax evasion and sent to Alcatraz in 1950 and 1961. When Alcatraz closed in 1963 he was transferred to a federal penitentiary in Georgia, where another inmate attacked him with a lead pipe. Cohen suffered permanent brain damage as a result. He was released 1971, and died in 1976.
Mickey wrote to Underwood from prison. A number of these letters can be found in the Underwood Collection. Additional letters were donated anonymously to Special Collections and Archives in 2012.