Posted on February 12, 2013
This semester, some Peek in the Stacks blog posts will be authored by CSUN students who work in Special Collections and Archives in the Oviatt Library. This week's post was written by Juan Garcia, a student assistant in the International Guitar Research Archives, who will graduate in May with a Bachelor of Music in Guitar Performance.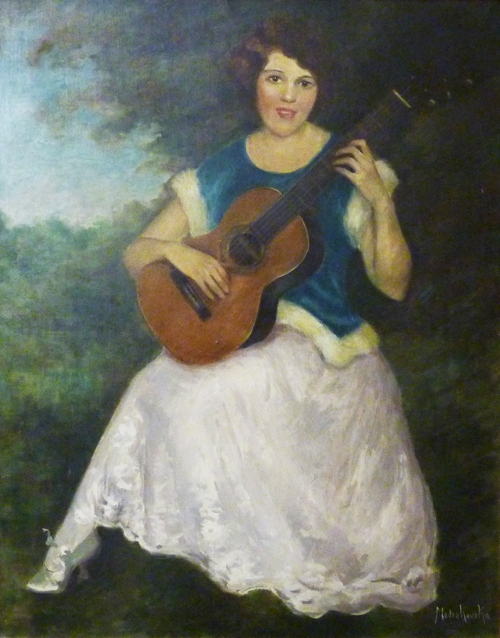 The Vahdah Olcott-Bickford Collection consists primarily of scores and correspondence, which may cause some of its smaller parts to go unnoticed by researchers. One of these interesting parts is a small series of lectures concentrating on the guitar's history, pedagogy, and even some of Vahdah's philosophy.  These lectures outline many of her ideas on music and the guitar.
Some of Vahdah's lectures focus on guitar-related issues she faced during her lifetime, some of which have been resolved since then, and others the modern guitarist still faces. Vahdah encouraged the use of nylon rather than steel for the treble guitar strings. Today nearly all classical guitarists play on nylon strings, yet through these lectures a researcher can explore this once-pressing issue among classical guitarists. There is also a lecture on how to position the instrument while playing, an issue guitarists still have different opinions about today. In her lecture she mentions Dionisio Aguado, who invented a tripod to hold the guitar so no part of the instrument rested on him while he played, and cites notable contemporaries who used a footstool instead. Guitarists today still experiment by resting a small pillow between their leg and the guitar for a good position, or use the ErgoPlay, a guitar support that attaches to the instrument and rests on the player's leg.
A good portion of these lectures focus on the guitar's history. One lecture that sparked great interest is titled "Franz Schubert, world's greatest song writer and his connection to the guitar." This lecture focuses on the life of Franz Schubert, and also sheds light on the lesser-known fact that he used the guitar to compose most of his songs. Schubert was poor most of his life, and did not own or have access to a piano. As a result, the guitar was very dear to the great composer -- a majority of his accompaniments were conceived on the guitar, and later published for piano. In his famous "Serenade," Schubert even instructs pianists to play "alla chitarra" or "like a guitar."
Other lectures serve as pedagogical tools, not only for the teacher but also for the classical guitar student. Vahdah explains how to achieve the highest-quality practice sessions by focusing on the amount of concentration one puts into practice rather than the number of hours. There is also a lecture on "Self-Satisfaction," with emphasis on what that means for a growing artist. Another is on choosing repertoire for a program where she explains the importance of having a balance of sophisticated, dense works with lighter, more accessible works. These lectures are a great resource for study, and provide valuable insights about the guitar's history, pedagogy, and philosophy.