Posted on September 23, 2014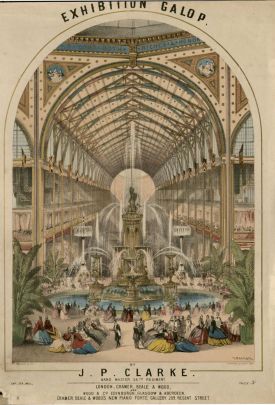 The term "Victorian" describes a set of values epitomized by the period of Queen Victoria's reign in the United Kingdom, from roughly 1830 to 1900. It has been suggested that primarily a growing middle class possessed what we now consider "Victorian" attitudes in an attempt to gain respectability. Beyond this popular conception of Victorianism is a reality that includes an expanding British empire in North Africa, the Middle East, and India; scientific discovery exemplified by Charles Darwin; the expansion of industrialization displayed at the Crystal Palace Exhibition; and continued development in art and literature by Charlotte Bronte, Charles Dickens, and the Rossettis.
The Victorian Sheet Music Covers Collection includes over 800 illustrated sheet music covers that are not only beautiful to look at but are also of great interest for their depictions of Victorian life. For instance, one cover illustrates the British charge at Magdala during the Expedition to Abyssinia, 1867-1868. The song Expedition to Abyssinia, composed in 1868 by John Pridham, attempts to portray a punitive expedition by the British Army against the Ethiopian Empire. Pridham is also known for The Battle March of Delhi (1857) and Yorkshire Bells (ca. 1873). There are several other covers representing British militarism as well as those illustrating the exoticism of the Empire.
The song titles The Meeting of the Nations and Exhibition Galop are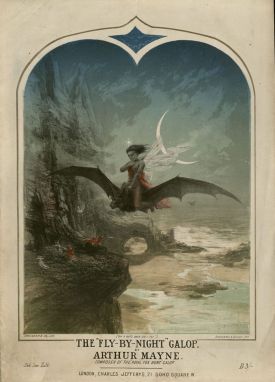 both references to the Great Exhibition of 1851, also known as the Crystal Palace Exhibition. The Great Exhibition was the first of what became known as world's fairs. Early world's fairs tended to focus on the growth of industry, while later ones highlighted cultures and cultural exchange among participants and visitors. Several iconic structures and public spaces were built for the world fairs, including the Eiffel Tower in Paris, the Space Needle in Seattle, Washington, and Balboa Park in San Diego.
The Amazon Galop (ca. 1870) and The Greek Slave Waltz can be seen as pictorial examples of Victorian Hellenism. The nineteenth century saw a move away from the studies of classical Rome, which became associated with decadence, to those of ancient Greece, associated with democracy and humanism.
The Victorian Era was one of much greater diversity than is commonly believed. The sheet music covers provide a visual representation of the mundane, the celebratory, and the fantastical experiences of the Victorian Era.