While we are working, attending class, and doing so many other things from home, our blog posts will focus on materials that have been digitized and can be accessed remotely. We'll continue to include links to our finding aids and other information about physical access, as well.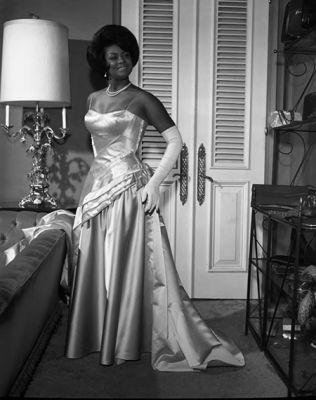 Beauty pageants are common throughout the world. Historically, these contests have focused on cisgender women, but there have been exceptions. Judging criteria for pageants is largely based on a combination of intelligence, talent, and poise, yet the core point of comparison is physical attractiveness. Young women participating in beauty pageants often look to the previous year's winners for images of how full their lips should be, a winning bust or hip size, or perhaps the need for contact lenses. While beauty pageants are often organized geographically, some are staged by businesses, social organizations, churches, and schools.
Beauty pageants usually follow a standard set of contest rules that include age range, marriage restrictions, amateur status, virtue requirements, and the ability to travel and promote sponsors. A beauty contest may have an entrance fee of several hundred dollars, which is sometimes paid for by the sponsors of contestants, and in exchange, sponsors often receive free publicity.
Throughout the contests and competitions, contestants are often motivated by cash prizes, scholarships, material prizes such as a new car, and thrill of being chosen the winner of the pageant. The beauty pageant runners-up are often awarded cash, scholarships, expensive gifts, and receive the symbolic honor of representing their communities.
International beauty pageants such as Miss Universe, Miss International, Miss Earth and Miss USA use feeder national and local beauty contents to fill the events with aspiring young women. For example, the Miss Tarzana Beauty Pageant forwards their winner to the Miss California Pageant, and the Miss California Pageant forwards their winner to the Miss USA Pageant, and the Miss USA Pageant forwards their winner to the Miss Universe Pageant.
Beauty pageants have long been a source of controversy. A common but controversial part of the beauty pageant is a swimsuit competition, which has been protested by religious groups and others since the advent of the modern bikini in 1946. In the 1960s and 70s, feminists began to openly critique beauty pageants for reducing women to objects, protesting patriarchal society's emphasis on physical beauty and consumerism.
For many years, beauty pageants such as the Miss America Pageant, excluded African American and other women of color from participating. This prompted the Black community to create an equivalent competition, the Miss Black America Pageant, in 1968. Vanessa Williams broke the race barrier as the first African American woman to receive the Miss America title in 1983. However, a scandal arose in late 1984 over the unauthorized publication of photographs depicting Williams in the nude, leading to her relinquish her crown. It wasn't until 2016 that Miss America CEO Sam Haskell offered a public apology for the events leading up to her resignation.