While we are working, attending class, and doing so many other things from home, our blog posts will focus on materials that have been digitized and can be accessed remotely. We'll continue to include links to our finding aids and other information about physical access, as well.
Richard Bruland's Bebop Records & Fine Art was a place of community for musicians, poets, and those interested in finding a small venue to watch artists up close. Though the locale has been closed since 1990, some of the materials in our Digital Collections highlight the connection between artists, community, and the director through posters, set lists, articles, and poetry. Several items available in our Digital Collections in the Richard Bruland Bebop Records Art Posters Collection focus on poetry. Many document the memories poets had of the store on Reseda in the San Fernando Valley.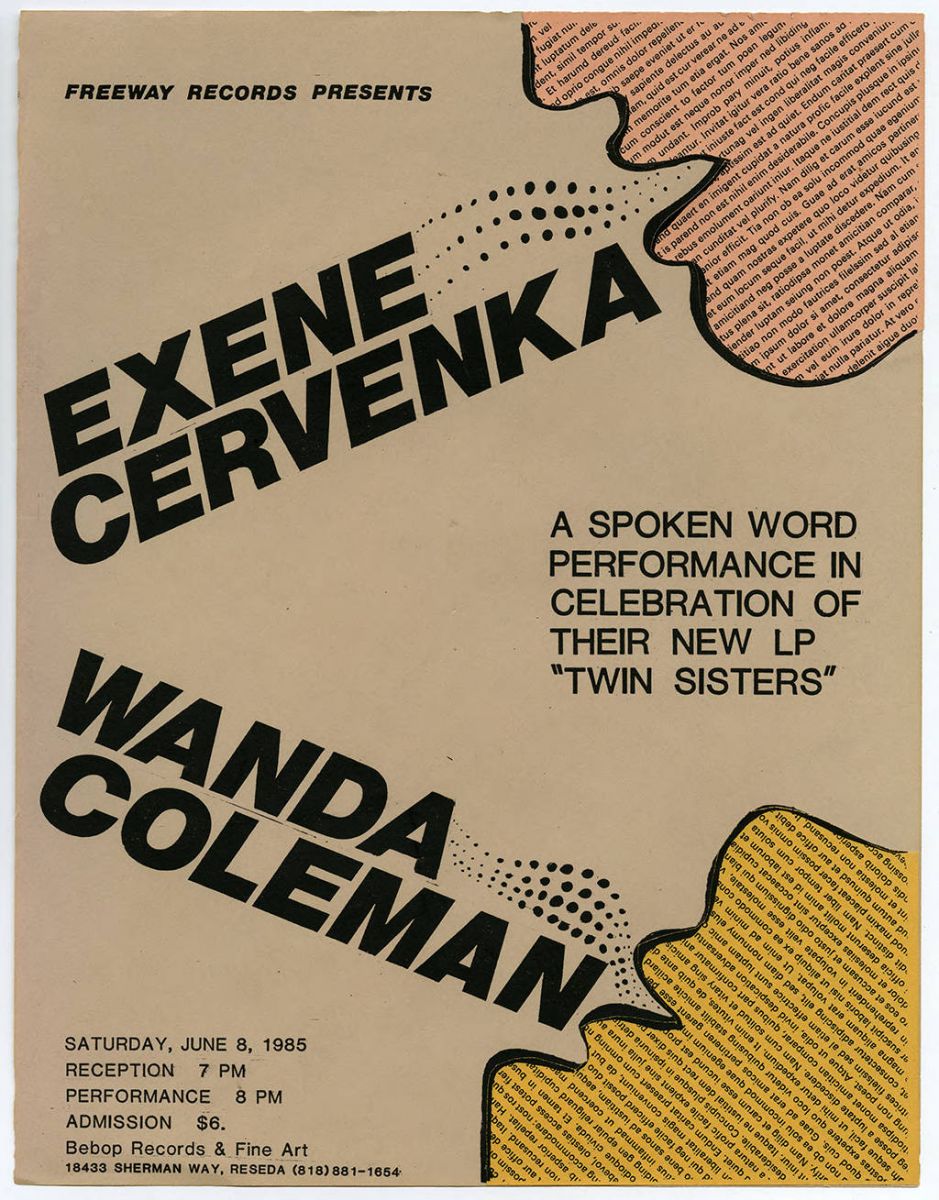 This was a place where you could watch bands or artists show their work in an up-close and personal venue. Artists could read works at "Open Mike Night." Bebop Records & Fine Art had a specific day that was solely focused on poetry readings. Their memories of the locale are told through their poetry. They tell of times when they heard artists such as Los Lobos or Wanda Coleman, their experiences of arriving and watching, and how important and impactful this community was to them.
Salmon Murphy, in a "Touch of Class," writes about the location and Bebop Records & Fine Art's importance and how it compares to the rest of the world. Murphy's poem also includes details about the inside of the shop. On the second page of the poem he includes dialogue about how Bruland chose performers. Ellyn Maybe writes about Bebop Records & Fine Art and describes, like Murphy, the place and how colorful it was. Maybe states that this place is a "community." At the end of the poem, Maybe writes, "We were lucky" in a way of reflection of the time spent there with artists and performers. In "Requiem for Bebop," by an unknown author, the poet recounts the history of this place where artists got together and shared their artistic abilities. Through poetry, and as a love letter to Bebop and Bruland, this poet shares their experience as a visitor and how this place was the "best goddamn place to perform anywhere anytime in the L.A. area." The untitled poem by Lauranlee Hoffman, tells of their personal experience of Bebop Records & Fine Art through the details of their thoughts as they experience a poetry reading. Hoffman shares their experience finding the ad in the L.A. Weekly, exchanging glances with poets, and listening to a poetry reading and their very honest thoughts on it. Their use of detail in their writing transports us to those particular moments they experienced.
The following two poems are not specifically about the closing of Bebop records, but show the different kinds of poems that were possibly read at the store. "To Lightnin Hopkins' Blues" by Marcielle Brandler reads like a song with all the mentions of music such as guitar, playing riffs, and singing. Brandler's poem was possibly read in March 1987 at the store, as seen in a list of performances from 1987. In a poem by Stephen W. Goldman, they write about the connection between the human experience and poetry. There is a note by Goldman to Bruland about an edit that they made in the poem.
Bebop was featured in The Moment journal, an "L.A. Journal of the Arts." In the Spring 1990 issue, Bebop is said to be a place where art, poetry and music are shared, so it had a variety of activities for those looking for this scene. The Fall 1990 issue has a short statement about Richard Bruland and the closing of Bebop Records. For more information on the Richard Bruland Bebop Records Art Posters Collection please view our Finding Aid. To view more images and information online, visit the Richard Bruland Bebop Records Art Posters Collection on Digital Collections.