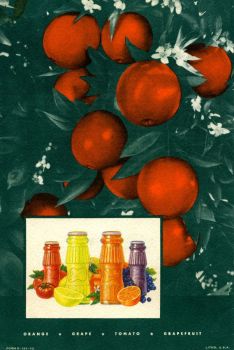 Frank W. Bireley was born in Los Angeles in 1899. He went to school in Hollywood before graduating and attending Stanford University. While in Northern California he looked for ways to fund his education, and started selling fresh squeezed orange juice to his fellow students to help pay his tuition. His juice business took off and led him to launch Frank W. Bireley Company in 1923. He innovated new ways to squeeze oranges and created a non-carbonated orange soda sold as Bireley's, which would later become part of General Foods Corporation in 1943.
The Glen W. Stevenson Collection documents Bireley's juice squeezing, concentrate, and non-carbonated soda business through the perspective of his business assistant. Glen W. Stevenson worked as assistant to Bireley in Southern California in the 1950s. In his role as Office Manager he purchased parts, scheduled manufacturing, and hired and trained personnel. He kept many photographs, several notes, newspaper clippings, and promotional ephemera extolling the virtues of Bireley's orange juice concentrate and the self-made man heading up the orange juice empire.
The promotional ephemera touted the economic benefits of concentrating orange juice, both for the manufacturer's shipping logistics, and for the consumer who was consequently able to purchase "a high quality five-cent beverage." Bireley's non-carbonated soda was sold as "a food as well as a refreshing beverage," with the lack of carbonation angled as a benefit of this drink that is "not an ordinary soft drink." Images in a 1942 booklet showcase the process of squeezing oranges, pasteurizing and filtering the juice, and then concentrating it by removing most of the water. The concentrate was then shipped to bottling plants, where it was mixed with water and sugar, and bottled for selling as Bireley's non-carbonated soda.
Bireley Co. is credited with the design and construction of the first automated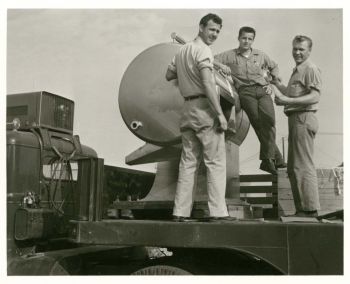 juice extractor. Many of the industrial photographs in the collection document the construction and testing of juice squeezing and concentration equipment at the North Hollywood plant. There is a special focus on the fractionation section of the production line and the experimental equipment created to refine the process, with many employees pictured alongside their work.
Frank W. Bireley passed away in his sleep in 1960. The newspaper obituary marking his life and passing crowned him the "Juice King." Thanks to Stevenson's decision to keep the papers and photographs from his time working at Bireley's, these photographs and the accompanying notes and ephemera provide documentation of some of the inner workings of a local 20th century San Fernando Valley business, as well as a glimpse at the man behind orange juice innovation.