While we are working, attending class, and doing so many other things from home, our blog posts will focus on materials that have been digitized and can be accessed remotely. We'll continue to include links to our finding aids and other information about physical access, as well.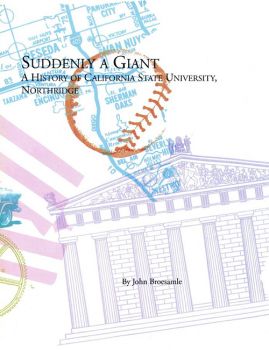 In 1988, CSUN professor John Broesamle reluctantly accepted a commission to deliver a "real history" of the campus at the urging of then-Library Dean Norman Tanis. Broesamle's initial apprehension to accept the offer stemmed from CSUN's relatively short life (in historical terms) of three decades when he was asked to undertake a history. After considering the remarkable growth of the campus to one of the nations' largest universities, he embraced the offer, writing Suddenly a Giant: A History of California State University, Northridge in 1993. The work was published by the Santa Susana Press.
Broesamle, a distinguished Professor of History from 1968 to 1998, personally witnessed the first major generational turnover of faculty and administrators, which had a profound influence on the book. Accurate historical narratives are supported by evidence, but by Broesamle's own admission, documentation of CSUN's past was limited, partly due to its short existence. To help bolster his sources, Broesamle consulted scores of faculty, staff, alumni, and administrators before drafting his text. Many of the faculty members, in particular, were preparing to retire or had recently retired after spending decades on campus.
Broesamle recorded interviews with over 40 people for the book. The oral history genre was a new device for him to explore as a historian, and a compelling one. "It wasn't until I re-conceptualized [the book's] potential as an oral history that I became excited about it," he told the Sundial. After finishing his work, Broesamle donated his research, including recordings of his interviews, news clippings, correspondence, notes, and other materials to Special Collections and Archives, where is is known as the John Broesamle Suddenly A Giant: A History of CSUN Collection.
Broesamle saw the interviews as a unique way to construct an institutional history around human stories. Still, the limits of the medium were not lost on him, stating in the introduction of his book that oral histories are "limited by the pool of [subjects]. These interviewees experienced certain things but not others, and they can only tell what they know. Oral history depends upon the accuracy of their recollections, and upon what they are willing to say." One advantage of having been longtime colleagues of the interviewees is that Broesamle could pick and choose those known to have consistently disagreed in order to "establish a field of perspectives."
Perspectives held by the interviewees vary with regards to significant events on campus from the institution's first thirty years. Early campus history and foundational growth are represented in part by Ben Rude, first president of Associated Students in 1956 when the campus was a satellite of Los Angeles State College, as well as Ralph Prator, first president of San Fernando Valley State College from 1958-1968. The late 1960s saw increasing protests on campus by a politically mobile student body that drew many of the nation's most influential politicians and activists to come and speak. A fight to establish Ethnic Studies on campus resulted in a clash between students, administrators, and police on November 4, 1968, and again in January 1969. Former student and founding member of the campus' Black Student Union, William Burwell, Jr., and director of the Educational Opportunity Program, Stanley Charnofsky, along with Professor Jorge Garcia, give testimony to the events leading up to and through the establishment of Pan-African Studies and Chicano Studies departments. President James Cleary reflects on these events as the incoming President in 1969. From 1970 to 1990 the campus experienced exceptional growth in student enrollment, academic programing, services, and the construction of new buildings. Noman Tannis, and Project Manager George Marcinik Jr. describe the intellectual and physical transformation of the campus respectively, with Professor Steven Oppenheimer recounting advances in research within the Sciences. Professor and Dean, Jerome Richfield reflects on the campus' leadership over the years.
Broesamle's Suddenly a Giant is the first published history of CSUN, but the oral histories that made it possible continue to shape our knowledge of the past with over 50 hours of interviews. These recordings with transcripts are available online in the digital collection John Broesamle Interviews.