Posted on October 20, 2020
While we are working, attending class, and doing so many other things from home, our blog posts will focus on materials that have been digitized and can be accessed remotely. We'll continue to include links to our finding aids and other information about physical access, as well.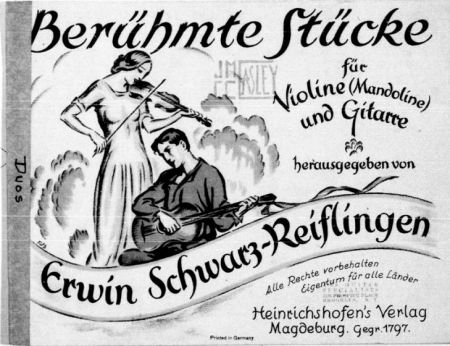 Charles Clarence Easley was born in Utica, Nebraska on September 13, 1885. Clarence, as he was called as an adult, began learning the guitar at age nine. As a young man, he worked as an accountant in Santa Fe, New Mexico. Following World War I, he began working as a court reporter, and in 1920 moved to San Francisco to take a job working in the local courts.
Easley had a lifelong fascination with the guitar, and was an active member of the guitar community. Among his numerous colleagues and asscociations, was the C. F.Martin & Company, from whom he ordered a guitar in 1910. In an exchange of letters with C.F. Martin, Easley located Vahdah Olcott-Bickford, founder of the the American Guitar Society and the two began to correspond, forming a friendship that lasted thirty years.
In 1948, Easley become the first guitar instructor with the San Francisco Conservatory of Music, where he assembled a large music library of outstanding composers. Late in his life, he decided to have his collection of classical guitar music scores microfilmed. After his passing, the guitar scores were disbursed and the microfilm became the only record of the Easley Collection. 
Eventually, the Easley Microfilm was given to Saint Mary's College of California and later to CSUN. In 2006, the Augustine Foundation awarded CSUN a $39,000 grant to digitize the collection. The Foundation was established in 1979 by Rose Augustine, wife of Albert Augustine, who collaborated with Andres Segovia and the Dupont Company to develop the nylon guitar string.The C.C. Easley Microfilm Scores Collection is now available in the digital library.
The C.C. Easley Microfilm Scores features works for guitar, mandolin, and lute. Highlights include Allemande Aymeé de l'Auteur, a 16th century duple metre dance of moderate tempo; Mazurka, a lively Polish dance in triple time composed by Frederigo Bufaletti, and arranged by Miguel Llobet; and, Lorena, an antebellum song with lyrics written by Reverend Henry D. L. Webster in 1856.