Some Peek in the Stacks blog posts are authored by CSUN students who work in Special Collections and Archives. This week's post was written by Ruby Antosh, a student assistant in the Urban Archives. Ruby is a sophomore majoring in Kinesiology.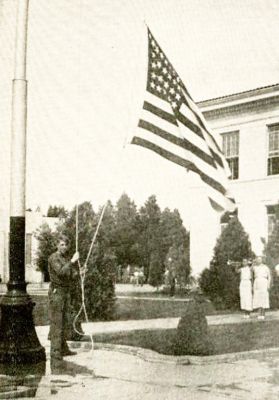 Canoga Park High School is one of the oldest high schools in the San Fernando Valley. The school first opened as Owensmouth High on October 4, 1914 with three teachers and fourteen students. In 1931, the school's name was changed after the town of Owensmouth became known as Canoga Park. The Canoga Park High School Collection consists of originals and photocopies of the Hunters' Call student newspaper; commencement programs; playbills; football rosters and schedules; programs from installation ceremonies, awards ceremonies, and high school events; programs for community and holiday events; and a yearbook. An important part of the history of Canoga Park High School is documented by two types of records, the first a narrative fragment compiled from a scrapbook, and the second a collection of letters written to the school, the school principal, or members of the faculty by alumni in military service during World War II.

Students and teachers at Canoga Park High School were very involved with the war efforts during World Wars I and II. During World War I, the student body adopted a war orphan by the name of Suzanne Langles from France, and students in grades 9-12 also participated in a Junior Red Cross program. During World War II, some students were drafted and served in the war. The school's student body were among the first in the Los Angeles County schools to sell war bonds. Other fundraisers included a paper drive, selling war savings certificate stamps, and Christmas cards for the years 1942-1944.

The teachers at Canoga Park High School had a tremendous impact on many of their students and former students serving in World War II. Lieutenant James H. Love, student body president from 1926-27, wrote to his teacher Blanche Bettington while serving in the war. He describes how she taught him to think of women as being an important part of history. He recounts a time where Mrs. Bettington was talking about political figures and stated, "She would hold up Mr. Coolidge's picture in time magazine, and tell us that behind every famous man, a woman was in there pitching." James notes that it changed the way he thought about women and the difference that they could make in the world.

Many soldiers wrote that they were grateful for letters and cards, and described the way it felt to be remembered and appreciated. Soldiers described their surroundings, the work they did, and the difficult situations they encountered while deployed. One former student by the name of Haruo Tanaka writes that he has little faith that he will live through the war. In many cases, soldiers wrote that letters from family, friends, teachers, and mentors was the only thing that kept them going. Today, Canoga Park High School has a memorial wall that includes the names of all the students who served in the military during World War I, World War II, the Korean War, the Vietnam War, and Operation Iraqi Freedom.