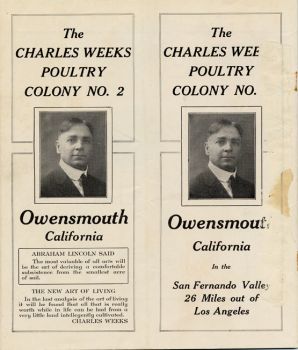 The Charles Weeks Collection was created by Carolyn L. Ryan, author of Winnetka's Heritage. The collection is comprised of various publications which document the activities and lifestyle of Charles Weeks and the farming community he helped to create in the San Fernando Valley. Mr. Weeks was invited to the San Fernando Valley by the Los Angeles Chamber of Commerce in 1920 to establish a series of one-acre farms in the area that would emulate the success of his Los Altos poultry colony. In 1923, Weeks moved out of his Northern California home and engaged himself in actively promoting a new colony in Owensmouth, selling around 500 one-acre farms to willing families for $1,500 each.  The colony Mr. Weeks created eventually developed into a small farming community, which promoted the uplifting the spirit of its members, and aiding in the social, intellectual and artistic enlightenment of the region.
Unfortunately, the Great Depression and subsequent downturn of the Los Angeles economy drastically affected farming communities.  By 1932, many of the farms faced bankruptcy and Mr. Weeks himself took a severe financial hit and lost almost everything. With the failure of the poultry colonies, Weeks relocated to Florida, where he lived out the remainder of his life growing papayas, raising fishing worms and skin diving. At the age of 80, Weeks became a leader in the new Floridian sport of underwater spearfishing. Although Charles Weeks died in Florida in 1964, the impact of his communal experiment can still be seen in both Palo Alto and Winnetka where concentrated numbers of houses are located on large parcels of land. 
The Weeks Collection traces the beginnings of the Weeks Poultry Colony and Weeks' own fondness for nature, as well as published materials that stress his allegiance to health and fitness.  Also highlighted in these publications are the histories of Owensmouth and Winnetka, California as they developed under the influence of the Weeks family farming plan. The collection also contains newspaper clippings and various small pamphlets documenting Week's later activities in Florida. The Charles Weeks Collection will be of particular interest to researchers studying the San Fernando Valley and its early residents, as well as those interested in poultry farming. For those wishing to learn more about the Charles Weeks Poultry Colony, our San Fernando Valley Oral History Project Collection contains an interview with former resident, Celeste Dameron.