While we are working, attending class, and doing so many other things from home, our blog posts will focus on materials that have been digitized and can be accessed remotely. We'll continue to include links to our finding aids and other information about physical access, as well.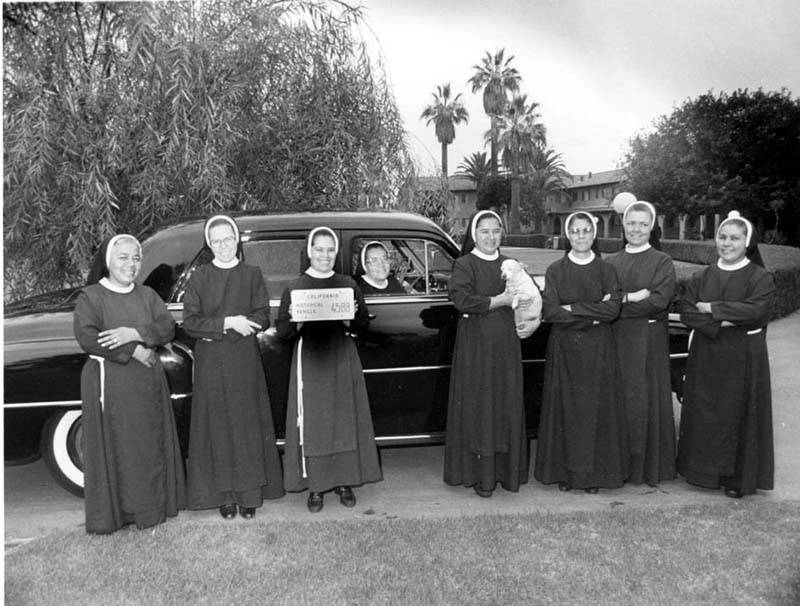 The San Fernando Valley has many different kinds of religious institutions that help the communities thrive through volunteer work, fundraising, and festivals. Community members will document different kinds of activities that are put on or are sponsored by religious institutions that support the community's beliefs. Focusing solely on the San Fernando Valley and digitized materials from the Robert and Betty Franklin and San Fernando Women's Club Collections. Highlighted here are a few places in the San Fernando Valley, specifically around the Northeastern end such as, San Fernando, Sylmar, Arleta, and Pacoima.
Many of the images below are of Christian denominations such as Catholic or Episcopal based on our digitized holdings, however the San Fernando Valley has many different kinds of churches, synagogues, temples, and other institutions. In 1960, there was a pamphlet that was created titled Church-Time Directory which lists all the different kinds of Baptist and Pentecostal churches in 1960. This was created to welcome new community members to the San Fernando Valley at large for those who were looking for a religious group to join and to promote different restaurants around the valley at that time.
One activity that religious institutions do is provide service to the community. For example, In the image of Saint Simon's Episcopal Church, the caption reads that the church distributed food to 113 needy families. Another example of service in the community are the Franciscan nuns in the following photograph. In the image, they are standing in front of a 1952 Dodge that the Franciscan Missionary Sisters of the Immaculate Conception were raffling off. Today, the Franciscan Sisters are still in the San Fernando Valley conducting service with the elderly.
These groups will also hold celebrations for their communities based on the community they serve. There are a few examples of these celebrations in this post. Mary Immaculate in Pacoima provided the community with a day of celebration for their community. The image below is the Mexican Independence Day Celebration committee in 1981, which is an important day for the Mexican community.
Santa Rosa, a Catholic church in Sylmar, has images of children in costume during the Día de Guadalupe Festival. Images of children in costume are meant to portray the people in Mexico during this important event in Mexican religious history. Another image is of a young girl dressed to portray the Lady of Guadalupe. Another example of a faith based celebration held in the San Fernando Valley, in this case a Buddhist one. Arleta held an Obon Odori Festival in 1983 where children and families celebrated with a dance that can be seen here. The Obon festival is meant to commemorate the spirits of ancestors. This event was sponsored by the San Fernando Valley Buddhist Church.
Though many religious institutions have religious ties to their celebrations or social events, St. Didacus Catholic Church in Sylmar had what looks like a community festival. In the image below, we see a few people proudly holding a banner to market a "Fiesta," a weekend party at the church in April 1979. Since the 1960s, the San Fernando Valley's population has increased significantly and therefore communities have also developed throughout. As seen from the images presented, we can infer that these institutions provide a sense of community to the neighborhoods that have developed over the years.