While we are working, attending class, and doing so many other things from home, our blog posts will focus on materials that have been digitized and can be accessed remotely. We'll continue to include links to our finding aids and other information about physical access, as well.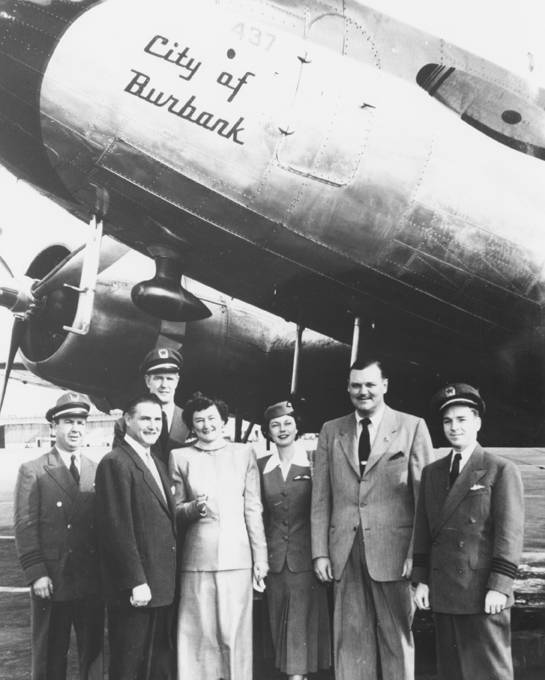 The Hollywood Burbank Airport was built in 1930 and initially served as Los Angeles' primary civil airport. On its opening day it was known as United Airport, but over the decades it went through a number of name changes before its most recent renaming in 2017 to better connect it to its geographic location. It has also been known as Union Air Terminal, Lockheed Air Terminal, Hollywood-Burbank Airport, and Burbank-Glendale-Pasadena Airport. Until the most recent name change, the airport was known as the Bob Hope Airport in tribute to the stand-up comedian, vaudevillian, actor, singer, dancer, author, and local resident.
The Coralie Hewitt Tillack Collection contains articles, ephemera, historical sketches, manuscripts, newsletters, newspaper clippings, photographs, reports, research papers and related items documenting the Hollywood Burbank Airport throughout its many decades and name changes. Tillack started working for Lockheed Air Terminal as a telephone switchboard operator in 1956, and later transferred to Field Operations. Her interest in the airport's history led her to write a column for the company newspaper and collect airport-related newspaper clippings, magazines, books, and photographs. Upon her retirement in 1982 she began writing a history of the airport titled Once Upon an Airport. She completed her manuscript in 1987.
Aviation celebrities like Amelia Earhart, Wiley Post, Charles Lindbergh, and Howard Hughes all frequented the airport in its early days and feature in several photographs. Celebrities and everyday visitors alike could visit the airport's Sky Room restaurant and cocktail lounge and watch activities on the airfield while enjoying a meal or beverage. During World War II the neon sign advertising the Sky Room restaurant was fitted with a blackout switch. The restaurant operated from 1934 to 1966, at which point the space was turned into a conference room.
Many of the photographs in the Coralie Hewitt Tillack Collection document the airport in wartime. Lockheed Aircraft Company bought the airport in 1940, and it became an important part of the local military fabric during World War II. Lockheed and Vega established defense plants adjacent to the airport to build planes for the war effort. The look of Lockheed Air Terminal was modified to reduce its visibility from the air and hide from enemy airplanes by camouflaging buildings and runway features. Netting stretched across parking lots and airport buildings to create an illusion from the air that the area was a neighborhood of houses and trees. The runways were spray-painted to resemble fields of grass and crops.
Post-World War II, Los Angeles International Airport took over as the region's aviation hub. In 1967, Lockheed renamed the facility Hollywood-Burbank Airport, and it was rechristened the Burbank-Glendale-Pasadena Airport in 1978 when those cities formed a new airport authority and bought it from Lockheed. Although it is no longer the primary Los Angeles airport, it is a still-active site of Southern California's aerospace heritage and continues to operate as a popular airport for domestic flights.
Additional photographs from the Coralie Hewitt Tillack Collection are available online as part of the San Fernando Valley Digital History Library.