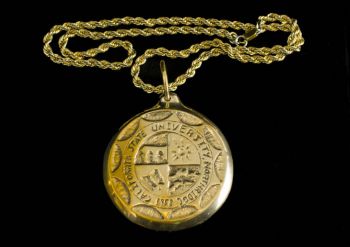 The CSUN Leaders Oral History Project Collection contains interviews with eight key individuals involved in the history of California State University, Northridge, including some of the university's most distinguished faculty, deans, presidents, and provosts. Topics discussed in the histories include campus unrest during the 1960s and 1970s, the 1994 earthquake, budget crises in California, and the rapid growth and development of the campus. 
Dr. Ralph Prator was the first San Fernando Valley State College President, serving from 1958-1968. Prator oversaw the rapid growth of an educational community. From its humble beginnings, the campus was built from trailers and borrowed faculty. At the time of his resignation in 1968, Valley State had developed beyond expectations, though with it grew social tensions affecting many colleges and universities around the country.
In 1969, Dr. James Cleary began his service as President of San Fernando Valley State College. During his twenty-three years as president, Cleary oversaw the campus' designation as California State University, Northridge, accompanied by a remarkable surge in student enrollment that over the following decades forced unprecedented expansion.
Dr. Bonita J. Campbell started her CSUN career in 1975 as assistant professor in the College of Engineering and Computer Science, where she created the Women in Science and Engineering Program, or WISE. Campbell was the first woman in engineering at CSUN to hold a tenured faculty position. She was promoted to professor in 1982 and appointed department chair shortly thereafter. In 2001, Dr. Campbell created the Department of Manufacturing Systems Engineering and Management. 
From 1993 to 2003, Dr. Louanne Kennedy served CSUN in multiple capacities as Provost, Vice President of Academic Affairs, and Interim President. This interview reveals Dr. Kennedy's development as an administrator and her commitment to reforms designed to increase student success.
Following Dr. James Cleary, Dr. Blenda Wilson served as President of California State University Northridge from 1992-1999, during periods of tremendous growth and great challenges. This oral history interview recounts Dr. Wilson's experiences as an administrator focused on extending campus diversity while leading efforts to rebuild after the devastating Northridge earthquake of 1994.
University Library Dean, Dr. Susan Curzon helped the campus transition through extensive change on multiple fronts between 1992 and 2010. The Northridge Earthquake of 1994 devastated the South and University libraries. As she led efforts to rebuild, rapid technological advancements in information science transformed higher education through changes in pedagogy, research, and knowledge dissemination. Dr. Curzon relied on her passion for management to lead and develop the library throughout these exceptionally challenging years. 
Dr. Jolene Koester was president of CSUN between 2000 and 2011, presiding over a period of intense changes in higher education reflected by advancements in digital technologies and pedagogy, but beset by challenges created by significant reductions in state funding with rising student enrollments.
Dr. Harry Hellenbrand served as Interim CSUN President, Provost, and Vice President for Academic Affairs, at a time of rapidly diminishing resources for public education, from 2004 to 2014. In this interview, Dr. Hellenbrand reveals some of his strategies for doing more with less by creating a culture of success based on greater self-reliance.