A microenterprise is a business which operates with ten employees or less, though it is common for these smaller than small businesses to operate with only one or two employees. It is estimated that 85%-95.8% of all U.S. businesses are microenterprises. Despite this high percentage, many of these business owners do not qualify to participate in the commercial banking sector, making it very difficult to gain access to start-up capital and traditional financing and credit services. To combat this, microenterprise development organizations (MDOs) like the Coalition for Women's Economic Development (CWED) began emerging in the United States in the mid- to late-1980s to provide better economic options for micro-entrepreneurs.
CWED was the first organization of its kind in the city of Los Angeles and one of the first in the United States. The organization borrowed strategies from Grameen Bank, a Bangladeshi community bank which provided micro-credit loans to those living in abject poverty. CWED engaged in solidarity lending, or giving loans to small groups whose members hold one another accountable to repay the collectively owned debt. The practice often eliminates the need for collateral, and lowers costs for the lending institution. During CWED's operation, more than $600,000 in loans were disbursed to micro-entrepreneurs across Los Angeles who did not qualify for funding through commercial banks.
In addition to solidarity lending, CWED also delivered multilingual training workshops to thousands of participants from 1989 to 1995. Targeting low-income women, particularly ethnic minorities,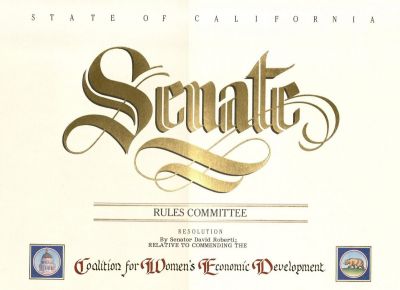 CWED combined economic development with social welfare strategies to educate and empower their participants to "…achieve self-sufficiency through self-employment"—the group's founding mission. The coalition also contributed to policy development regarding street vending and home-based business ordinances and set up relief funds for businesses affected by L.A.'s civil unrest in 1992. CWED helped to establish the Association for Enterprise Opportunity (AEO) in 1991, the California Association for Microenterprise Opportunity (CAMEO) in 1992, and the Self-Employment Learning Project (SELP) under the direction of the Aspen Institute in 1992; these organizations are still in operation today.
During the 1990s, the field of microenterprise development grew exponentially in the United States. CWED was one of just a few groups collecting programming statistics during the 1990s, but by the 2000s many others began tracking the effect of microenterprise development, especially the ASPEN Institute, Welfare to Work, and CAMEO. It became clear that the programs improved options for micro entrepreneurs.
The Coalition for Women's Economic Development Collection, 1980-1999 provides a wealth of information regarding the field of microenterprise development during its inception in the United States, including early collaborative efforts, and documents the important achievements of the women, ethnic minorities, and immigrants who worked to combat poverty and social inequality in the United States. The collection may be of particular use to those conducting research in Economics, Business and Financial Management, Africana Studies, Chicana/o Studies, Gender and Women's Studies, Educational Methodologies, Family and Consumer Sciences, Sociology, Social Work, Sociolinguistics, Urban Studies, Public Administration, Public Sector Management, and those interested in local Los Angeles history and the history of American economics.