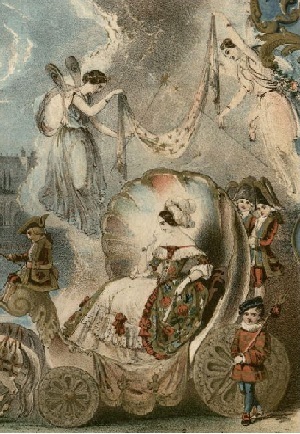 "Once upon a time" is the well-worn opening to several traditional fairy tales, but where did the phrase originate? What is a fairy tale? Scholars generally agree that a fairy tale does not need to include actual fairies, but they agree on little else. Some basic themes in fairy tales are the presence of magic, some form of transformation (of a character or an idea), and the inclusion of the extraordinary.
Subtle distinctions between legends, fables, and fairy tales appear to be generally understood: legends could possibly be true and are believed to have some basis in reality, while fables anthropomorphize and attempt to convey a moral principle, and fairy tales include fantastical elements that cannot be true. Fantasy literature can also be difficult to distinguish from fairy tales. Generally, fantasy literature is marked by magical adventure, but stories like Peter Pan, A Midsummer Night's Dream, The Fairly OddParents, and Labyrinth (all of which DO have fairies) are sometimes considered to be fairy tales despite their adventurous plot elements.
Why should adults care about fairy tales beyond their value as entertainment? Fairy tales are good examples of stories originally developed in an environment of oral tradition. Stories passed along in such a way often shift and change over time. It is also common to see similarly-themed stories from different cultures or in different time periods. Understanding the social and cultural context of a story's audience is critical to understanding individual fairy tales. Since fairy tales continue to be stories for and about children, they can also tell us something about the evolution of child-rearing, and the everyday lives and expectations of children in different cultures and time periods.
Two well-known fairy tales, Cinderella and The Little Mermaid, have been popular across many cultures and time periods. Both have gone through several iterations, including animated film adaptions. Cinderella has also been produced for the stage as a musical, opera, and ballet. The Little Mermaid has been produced as a musical, opera, comic book, and anime.
Special Collections is home to several versions of these stories. For example, Special Collections houses an 1852 edition of Tales from the Eastern-Land by A.L. Grimm, and an 1860s version in George Cruikshank's Fairy Library, both of which include the Cinderella tale. Cinderella: or, The History of the Little Glass Slipper is a facsimile produced in 1961 from an original that dates from 1800.
Hans Christian Andersen's, The Little Mermaid, debuted in 1837. The story can be found in Fairy Tales and Stories, of which Special Collections has two editions, one dating from 1887 and the other from 1911. An example of the ways in which we might study these stories and their adaptations can be found in the 1997 Master's Thesis written by CSUN Speech Communications major Carla Swift-Montgomery, The Little Mermaid and Beauty and the Beast: A Poststructural Analysis of Disney Animated Film.