While we are working, attending class, and doing so many other things from home, our blog posts will focus on materials that have been digitized and can be accessed remotely. We'll continue to include links to our finding aids and other information about physical access, as well.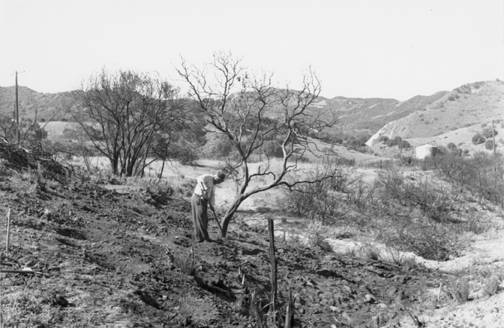 While much of the western United States is besieged by raging forest fires and the noxious smoke they spew into the atmosphere, fires have long been a staple of life in Los Angeles. Forest fires in past decades were typically smaller, burned less intensely, and were more easily and rapidly extinguished, but they occurred frequently, especially in and around the San Fernando and San Gabriel Valleys. Photographs and other documentation of fires and fire fighting in Los Angeles in past decades are a part of the San Fernando Valley History digital collection.
Fire stations and fire fighters, both paid and volunteer, have been a critical component of local government infrastructure in the San Fernando Valley for over a century. Valley communities like Burbank, Tujunga, and Woodland Hills had established formal Fire Departments by the 1920s and 1930s. As fires frequently broke out in and around the largely undeveloped valley, they sometimes worked with US Forest Service fire fighters stationed in the Angeles National Forest to extinguish brush and other fires.
By the 1950s, as housing developments proliferated, frequent fires continued to break out in and around the valley. In an effort to avoid fire's destructive effects on private property and civil infrastructure, fire agencies across California adopted new fire management and public education strategies that focused on fire prevention and suppression. In Burbank, fire fighters visited elementary schools to demonstrate equipment and instruct children about fire prevention. The Burbank Fire Department also installed alarm boxes around the city that could be used to quickly inform fire fighters of new fires in an era before cell phones.
After decades of fire prevention and suppression strategies, and with the effects of climate change becoming increasingly significant, brush and forest fires continued to burn, gradually increasing in intensity and destructive power. To see more images and documentation of past fire management practices, visit the San Fernando Valley History digital collection.