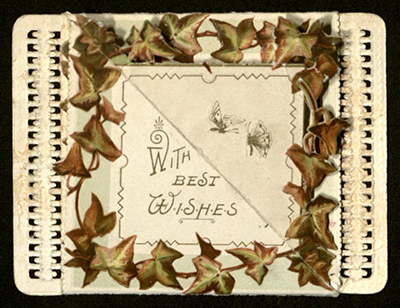 While people around the world have been sending greeting cards for centuries, most cards produced prior to the 19th century were crafted by hand. They were prohibitively expensive for many, and were not widely circulated as a result. Advancing print technologies and the introduction of the postage stamp in the Victorian era resulted in greeting cards becoming increasingly inexpensive and quick to produce and mail in the UK and US in particular.
Greeting cards rapidly grew in popularity through the end of the 19th century and into the 20th century as more and more people bought and sent them to their friends and family members for birthdays, Valentine's Day, Christmas, New Year's, and more. Special Collections and Archives has a collection of greeting cards from the Victorian and Edwardian eras, some of which include handwritten personal messages for the person they were sent to over a century ago.
Like their hand-crafted predecessors, early printed greeting cards lack consistent sizing and format. They often feature no folds at all, or multiple folds in unusual locations. Other common design features include lacy cut-outs, decorative edges, embossing, gold and silver leaf filigree, hand-coloring, and more.
Regardless of the occasion, many cards were decorated with flowers and other botanicals. In the Victorian era much of the imagery we now associate with particular holidays had not yet been firmly established. Christmas cards rarely featured red and green, New Year's cards often didn't include images of champagne or sparklers, and Valentines tended to lack hearts and cupids. As a result, greeting cards produced in the 19th and early 20th centuries can be difficult for modern viewers to immediately identify.
Messages inside Victorian greeting cards were often printed with heavily stylized typefaces. They tended to be lengthier than those of many modern greeting cards, and sometimes appeared in multiple locations on the card's interior, sometimes making it difficult to know exactly how to read them. Printed text almost always rhymed, whether the text's author was unidentified or a well-known poet.