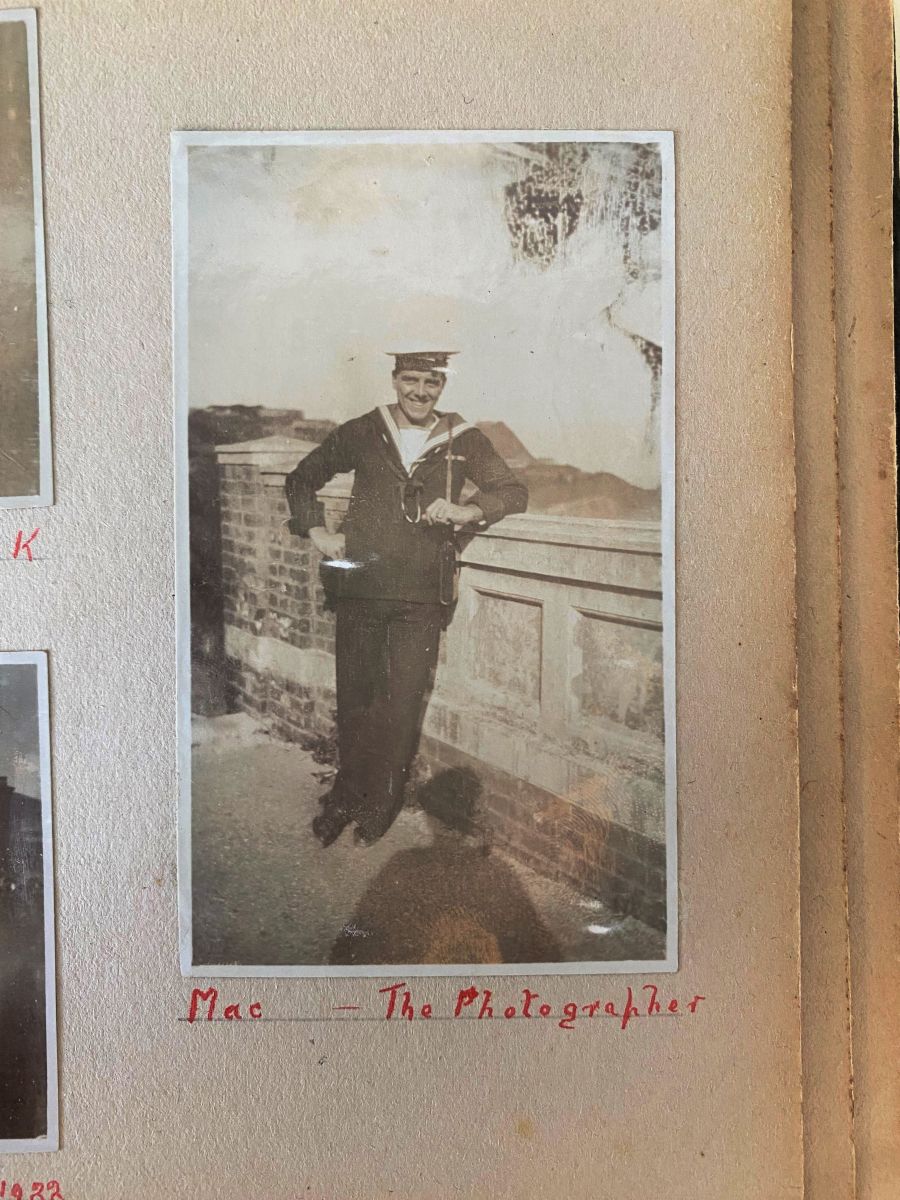 Special Collections & Archives holds a Submariner's Album in the Far East. This album contains 148 sepia-tone photographs taken by a crewmember of the British submarine named Her Majesty's Ship L4 (HMS L4). Each photograph varies in size, and was glued to each page. Captions have been added in red ink that are helpful in deciphering the content of the images. The people in the photographs tend to be men, but there are a few women and children.
The album contains a wide range of photographs covering events and subjects on and off the ship. The first page shows a 1922 visit from the Prince of Wales, Edward the VIII on a voyage to Hong Kong. In one picture, Edward is shown boarding the royal steam yacht Alacrity. Edward's full name was Edward Albert Christian George Andrew Patrick David. In 1936, Edward the VIII abdicated his throne in order to marry an American divorcée.
Page 4 of the album includes a picture of the HMS Hawkins. This heavy cruiser was commissioned in 1919 and became the flag ship in the British China Station. Subsequent pages contain pictures of the Suez Canal. The canal was completed in 1869 and allows ships to move from the Mediterranean Sea to the Red Sea. Later in the album, pictures of the HMS L3 and HMS L9 appear. These were submarines built for the Royal Navy during World War I. They are shown leaving port in Albania. The album also includes a picture of ocean liner Royal Mail Ship (RMS) Empress of Canada under full steam in Hong Kong, and a picture of the HMS L4 taking on oil from the Royal Fleet Auxiliary Tarcol in Singapore.
Towards the end of the album there are interior shots of the HMS L4. These pictures show the ship's fore ends, control room, wardroom, wireless office, telemotor board, diving wheels, main and motor switchboards, engine room, after ends, and bridge. The photo album also includes many snapshots of Hong Kong including a local family, a funeral procession, and more. Finally, the last two pages of the photo album have a picture of submarine HMS L2 and L5.
This photo album, including many additional photographs not included in this post, can be requested and viewed in person at Special Collections & Archives.