Some Peek in the Stacks blog posts are authored by CSUN students who work in Special Collections and Archives. This week's post was written by Sam Ceja, a student assistant in the Urban Archives. Sam is a senior majoring in History.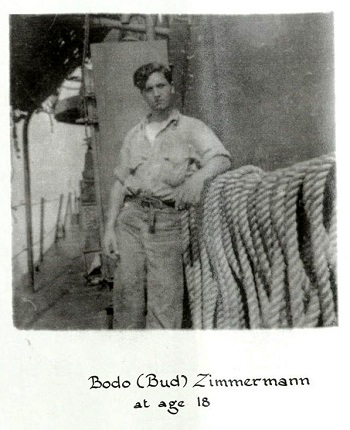 Rampant antisemitism in Europe in the years prior to World War II caused many Jews to seek refuge in countries outside of Europe, including in China. Once settled, Jews were deemed "stateless" because of antisemitism in their countries of origin, like Germany and Russia. As a result, when Japan occupied China during the war, Jewish families from across Europe who had settled in Shanghai were interned in Japanese concentration camps.
After their family-owned department store was confiscated in 1939 by the Nazi government in Germany, Bodo Zimmerman and his family fled Berlin and relocated to Shanghai in 1940. Once safely in China, Zimmerman was determined help his family start a new life, dropping out of school at the age of thirteen to begin an apprenticeship at a Chinese bakery. In 1942, the German-Jewish family was interned for three years at Ward Road Camp, a Japanese camp in Shanghai. When released in 1945, Zimmerman found a job as a baker aboard the American ship USS LCI 220. He settled in the United States in 1949, served in the US military in the 1950s, and then worked as a government employee for the military, operating Japanese and Korean commissary bakeries. As a civilian in 1968, he worked for Vacu-Dry, a food company.
The Bodo Zimmermann Papers consist of letters, unpublished memoirs, newspaper articles, original drawings and other ephemera collected by Zimmerman during his life at the Japanese internment camp in Shanghai, aboard an American medical ship on the Yangtze River, and in the US as a veteran.
Before World War II, Hanni Sondheimer and her family left their home in Berlin to move to Kaunas, Lithuania to conduct business. Because of rising antisemitism during the Second World War, they fled Eastern Europe. The Sondheimers were issued Japanese visas by Chiune Sugihara, the Japanese vice consul who later became famous for saving the lives of millions of Jews during the war. Hanni and her family left Lithuania in 1941 with financial help from American relatives, but after their visas expired they were forced to immigrate from Yokohama, Japan to Shanghai.
The Hanni Sondheimer Vogelweid Collection documents Hanni's experiences during the war, when the Japanese forced her family to live in a ghetto with 20,000 other Jews called Hongkew, officially known as the Restricted Sector for Stateless Refugees. To survive, Hanni and her brother worked in a Chinese weaving factory to support their family. After the war, they were released from the ghetto. Hanni enlisted in the United States Army where she worked as a waitress and switchboard operator. In 1946 she emigrated to the United States where she lived for the remainder of her life. She married and had a child with Alfred Marion Gade, a US Army Lieutenant, and later married Lloyd Vogelweid. Her collection contains personal documents in English, German, and Chinese, including correspondence, passport affidavits, and publications from Hanni's years in Shanghai. The collection also contains immunization certificates, marriage certificates, work permits, and visas.
Both the Zimmerman and Sondheimer families were subject to antisemitism in Europe during World War II. While Bodo Zimmerman was interned for three years at Ward Road Camp in Shanghai, Hanni Sondheimer Vogelweid was forced into the Hongkew ghetto with other Jewish refugees during the war. Both enlisted into the United States military and later emigrated to the United States. The Bodo Zimmermann Papers and Hanni Sondheimer Vogelweid Collection highlight the vital records relating to their life before Shanghai and after the war outside of China.