While we are working, attending class, and doing so many other things from home, our blog posts will focus on materials that have been digitized and can be accessed remotely. We'll continue to include links to our finding aids and other information about physical access, as well.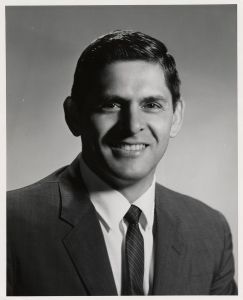 The Julian Nava Collection documents Nava's wide personal and professional interests in education, Mexican American affairs, Latin American history and Chicano politics. Dr. Julian Nava (1927-2022) was born and raised in Boyle Heights to Mexican immigrant parents. In 1945, he volunteered for the US Navy Air Corps at the age of seventeen and was accepted as a pilot candidate, however the war ended before his training was complete. In the patriotic and martial fervor of the time, he and a small group of recent military inductees received permission from the administration of Roosevelt High School to wear their uniforms to their graduation.
Like many of his generation, he attended college on the G.I. Bill. Initially enrolled at East Los Angeles Junior College, he would earn his B.A. from Pomona College (one of the Claremont Colleges) and his PhD in history from Harvard University in 1955. Over a long and distinguished career as an educator, he taught in Venezuela, Spain, Puerto Rico, and Colombia. Nava was Professor of History at California State University, Northridge (CSUN) for over forty years. He was the first Mexican-American elected to the LA Board of Education, serving from 1967-1979, re-elected twice and serving as board president twice. His contributions to local public education were such that Edward James Olmos played Julian Nava in the 2006 HBO film Walkout. In 2011 and again in 2014, the LAUSD named schools after him—the Dr. Julian Nava Learning Academy on E. Adams Blvd and the Nava College Preparatory Academy on Compton Ave.
In addition to his myriad contributions to education, Dr. Nava was appointed United States Ambassador to Mexico by Jimmy Carter in 1979, serving from 1980 to 1981. On April 3, 1980, Nava became the first Mexican-American U.S. Ambassador to Mexico. He presented his credentials to Mexican President, José Lopez Portillo, at a grand ceremony at the Palacio Presidencial in Mexico City. Nava left the embassy exactly one year later, on April 3, 1981. When President Carter was not re-elected in 1980, the Reagan administration declined to keep Nava in his position and instead informed Nava that his successor had been selected.
Today he is retired and living with his wife Patricia in San Diego County. He continues to lecture on the importance of multicultural education, most recently at an event presented by the Mexican-American Cultural Education Foundation at La Plaza de Cultura y Artes in downtown Los Angeles in November 2019. To view these, and other, resources from the Julian Nava Collection please visit the Latina(o) Cultural Heritage Archives.