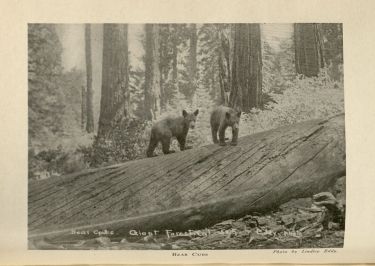 It's finals week, when tensions are high and stressed minds long for rest, relaxation, and adventure in the great outdoors. Special Collections and Archives holds a number of tantalizing titles sure to interest even the most exhausted minds in an exploration of California's wilderness wonderland, King's Canyon and Sequoia National Parks.
On September 25, 1890, President Benjamin Harrison signed legislation establishing Sequoia National Park. For the first time in US history a national park was formed to protect a living organism, Sequoiadendron giganteum, also known as the giant sequoia, giant redwood, Sierra redwood, Sierran redwood, Wellingtonia, or Big Tree. Between 1891 and 1913, US Army Cavalry troops were detailed from the Presidio of San Francisco to protect the park. In 1913 William Frye was appointed as the first civilian administrator. Three years later, President Woodrow Wilson signed an act creating the National Park Service, a new federal bureau in the Department of the Interior responsible for protecting national parks and monuments. In 1940, Congress and President Franklin D. Roosevelt established Kings Canyon National Park, which has been administered jointly with Sequoia since the Second World War.
The Giants of Sequoia and Kings Canyon is a booklet published in 1952 by the Sequoia Natural History Association in cooperation with the National Park Service. Author Howard A. Stagner was a Park Naturalist employed by the National Park Service between 1946 and 1952.  The booklet is an introduction to Kings Canyon and Sequoia, including a discussion of the distribution of the Giant Sequoias, its life cycle, natural enemies, and a list of specific Big Trees, groves, meadows, and other locations that are a must see.
The Lore and the Lure of Sequoia by Herbert Earl Wilson offers a history of the area beginning with "The Coming of the White Man," from the perspective of the white man. The author also explores the Kaweah Colony, whose founders considered the group a Cooperative Commonwealth, "a modern Utopia, governed along socialistic line." The colony was founded in 1885 and settled a little over three miles above Three Rivers on the North fork of the Kaweah River. The geology, plant life, and animal life of the area is described as it was understodd at the time of the publication's printing in 1928.
Sierra Nevada Big Trees: History of the Exhibitions, 1850-1903 provides a look at the history of the nineteenth-century Sierra Nevada big tree exhibitions, including the Crystal Palace exhibition in 1857, the felling of the "Mark Twain Tree" to exhibit in the American Museum of Natural History and British Museum in 1891, and the felling of the "General Noble Tree" for the World's Columbian Exposition in Chicago in 1893.