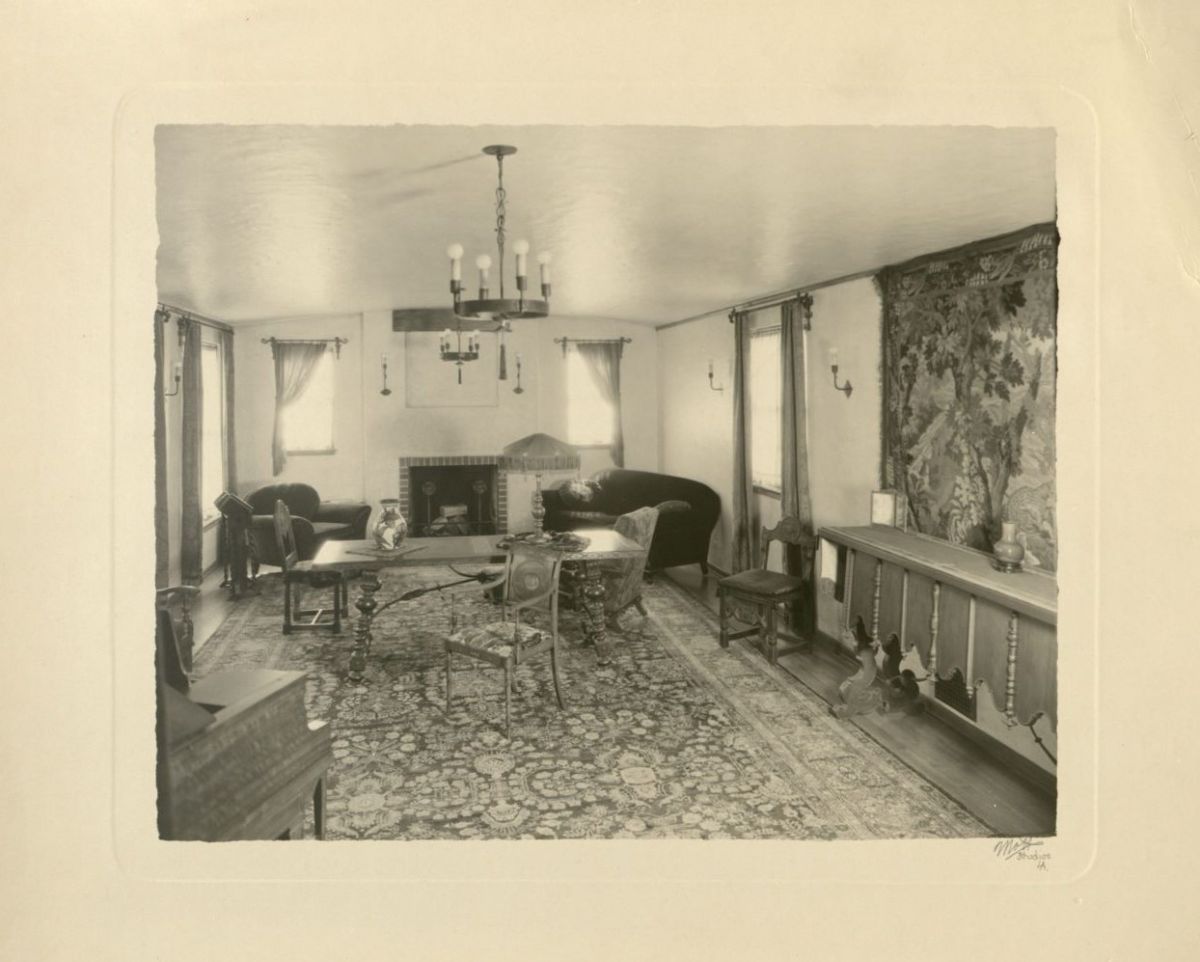 The Photographs of Los Angeles Schools and Homes is an artificial collection of thirty-five black and white photographs taken in approximately 1930 in the Los Angeles area. Three or more photographers created the images, and an unknown person assembled them into a single collection.
The first set of eleven photographs are of two different Mission Revival style single-family homes built near mountains. These photographs were taken by Mott Studios, a Los Angeles company that specialized in architectural photography. Mott Studios was well known for taking photographs of movie star and celebrity homes. The California State Library holds additional images as part of their Mott-Merge Collection.
In one photograph, you can see a concrete sidewalk and a paved street that runs past the front of a Mission Revival home. With the foothills in the background, the area looks a little like Pasadena. By the standards of the day, the interior furnishings are opulent. There is another picture showing a den or study with two bookshelves. Based on their book collection, it is possible to imagine that the homeowner might be a lawyer or perhaps a politician.
Photographs 13-23 are of Audubon Middle School in Leimert Park. The Arrow Photography Studio in Los Angeles took this set of photographs. The school was built in 1929 and the photographs were taken soon after the building was completed. The middle school was named after ornithologist and painter John James Audubon. The school is still in use today with some modern buildings added to the site.
Photographs 25 through 35 are of the Dorris Place Elementary School located in Elysian Valley. The Arrow Studio was also the photographer on this set. The Dorris Place Elementary school is still in use today and looks quite similar to our pictures from 1926. Dorris Place Elementary School has 362 students in Pre-K through sixth grade.