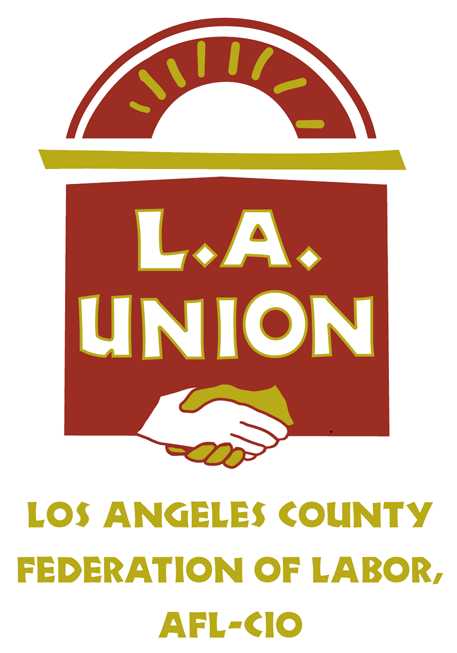 A group of five unions, cigar makers, printers, tailors, carpenters, and bakers, organized the Los Angeles Federation of Labor on June 23, 1889. The following year, the Los Angeles Typographical Union procured a charter from the San Francisco Federated Trades in order to form the Los Angeles Council of Labor. In 1894, the earliest Los Angeles Council of Labor affiliated itself with the American Federation of Labor (AFL). During the 1930s, the National AFL was rocked by an internal split that resulted in the establishment of the Congress of Industrial Organizations (CIO). The National CIO chartered the Greater Los Angeles CIO Council in May 1937, which maintained a separate existence for two decades. The National AFL and CIO merged in 1955, followed by the California State Federation of Labor in 1957. This set in motion a countywide merger in Greater Los Angeles between 1957 and 1959.
Soon after these changes, the Los Angeles Central Labor Council, AFL, and other local labor councils began to organize the Los Angeles County Labor Committee to Save-Our-State. On the November 1958 California ballot, a proposition to end the closed shop in California was offered by business and political leaders strongly opposed to unionism. Proposition 18, sponsored by Senator William Knowland, would have allowed non-union employees to work in unionized industries. Known as the "Right to Work" Initiative, Proposition 18 sought to end compulsory union membership in industries statewide. This measure would have added a new provision to Article 1 of the State Constitution that would "prohibit employers and employee organizations from entering into collective bargaining or other agreements which establish membership in a labor organization, or payment of dues or charges of any kind, as a condition of employment or continued employment." The Los Angeles County Federation of Labor, among other local and state organizations, mobilized strong opposition to the initiative.
California Proposition 18 was placed on the November 4, 1958 ballot in California as an initiated constitutional amendment. Proponents argued that all workers should have the right to elect whether or not they join a labor organization. Supporters believed that voluntary unionism would provide a safeguard against the exploitation that could arise from monopoly control of employment, and reasoned that it would grant workers the freedom of choice guaranteed in the U.S Constitution. Opponents argued that the "Right to Work" measure would jeopardize California's economy and pit employers and employees against one another in a dangerously fluctuating national economy. Ultimately, Proposition 18 failed by a large margin.
The Los Angeles County Federation of Labor Collection consists of administrative records that document the activities of the Federation, including campaign literature, correspondence, ephemera, minutes, pamphlets, political advertisements, speeches, and newspaper clippings which provide insights into the complex issues of industrial unionism, states' rights, and the elective process in California during the 1950s.