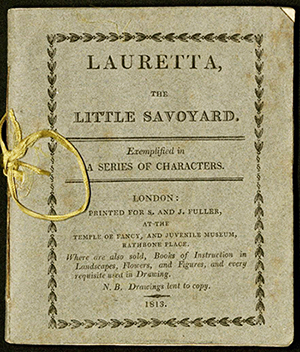 Children's literature first appeared as a genre distinct from other kinds of literature in the 18th century, as the concept of "childhood" emerged in western society. Early works for children often included moral or religious messages, both to entertain child readers and educate them about commonly-held values and appropriate behavior.
Many classic works of children's literature first written and published in the 19th centuries are still in print and popular today. While the works of authors like L. Frank Baum, Lewis Carroll, J. M. Barrie, and Rudyard Kipling are still familiar and beloved, a host of less well-known children's works were also produced during the 19th century.
Early children's literature often included colorful illustrations in accompaniament of the text. One book in Special Collections and Archives, titled Lauretta, the Little Savoyard, includes a set of paper dolls a child reader could dress up as he or she read through Lauretta's story.
Published in 1813, the paper dolls included in the book are not hand-colored, but are an early example of manufactured paper dolls. Rather than fitting paper clothing over a paper body as children do today when playing with modern paper dolls, Lauretta's paper head slips in and out of each outfit.
In the story, Lauretta, a bright Swiss girl who works on her parents' farm, is distracted from goatherding one afternoon, and falls into a stream while gathering flowers. She survives, but spends a few days living in a cave with two goats instead of returning to her home. Her reputation ruined, she embarks on a years-long journey.
She initially joins a band of traveling gypsies, with whom she earns her keep by entertaining audiences with her tambourine, and later by learning to play the hurdy gurdy. She then leaves the gypsy band and becomes an actress. A wealthy benefactor eventually bequeaths his fortune to her, at which time she decides to quit the stage and return to Switzerland after turning down numerous marriage proposals. Travelling in disguise as a gypsy, she is at last reunited with her long-suffering parents, and is wooed by a local nobleman, St. Julian.