While we are working, attending class, and doing so many other things from home, our blog posts will focus on materials that have been digitized and can be accessed remotely. We'll continue to include links to our finding aids and other information about physical access, as well.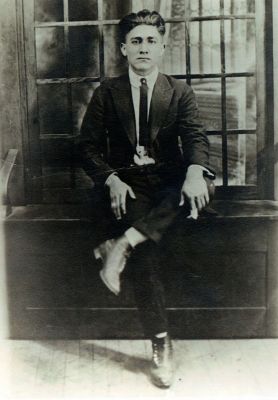 In our personal lives, important documents are often kept private and tucked away.  When studying immigration and family life, it is helpful to move beyond the readily available rhetoric and look at primary sources. The Antonio and Luz Mendez Calvo family Collection, which has been digitized as part of the Latino Cultural Heritage Digital Archives, offers that opportunity.
Antonio Regalado Calvo (1900-1973) and Maria de la Luz Mendez Calvo (1896-1982) were immigrants from the Mexican state of Sonora. They made a life together as the owners of a small Mexican restaurant in the city of San Fernando. Antonio Regalado Calvo was born in Alamos, Sonora. Maria de la Luz Aguilar Mendez was born in La Colorado, Sonora. Both of them, independently, moved north during the time of the Mexican Revolution. Antonio and Luz married in 1926 and after living near downtown Los Angeles for a short time they moved to San Fernando, where Luz had extended family.
In their first years together, Luz worked in the local fruit packinghouses while Antonio found employment working in restaurants, hotels, pool halls, and on Works Progress Administration (WPA) projects. Eventually, the couple started their own business selling food to workers in the local packinghouses. Working in her home kitchen, Luz prepared tacos, tamales, and burritos, which Antonio and sometimes their children sold to workers during their lunch breaks.
As the business grew, Antonio and Luz were eventually able to open a small restaurant. Their restaurant, Las Delicias Café, did not find a permanent location until 1946, when it moved to 1118 Pico Street in downtown San Fernando. By this time, the restaurant had developed a distinctive Sonora-style menu and a loyal following. The tacos were made with crispy, fried corn tortillas, filled with shredded beef and topped with lettuce. The burritos were small by today's standards, filled only with shredded beef which had been slow cooked with tomato and onion. The menu also offered enchiladas, chiles rellenos, chile colorado, and chile verde. The food was made fresh each day and served on hot plates with minimal sauce and melted cheese. Combination plates were served with a choice of homemade vegetable soup or green salad, and rice or beans. Known for its pure and simple dishes made of high-quality ingredients, Las Delicias Café was a popular San Fernando restaurant until it closed in the early 1970s.
Luz and Antonio had four children who were raised working in the restaurant, waiting tables or helping out in the kitchen. The family's primary language was Spanish, and the children learned English in school.  Antonio gained a working command of English and was able to communicate with his English-speaking customers, while Luz spoke Spanish exclusively. Luz was naturalized as a US citizen and regularly voted, while Antonio chose to remain a Mexican citizen.
The couple were active in the Santa Rosa parish, a Catholic Church in San Fernando. They were also active in civic affairs, participating in the San Fernando "Fiesta Days," and catering its "Mantilla Dinner" held at Saint Ferdinand's church. The couple are buried at the San Fernando Mission Cemetery in Mission Hills, California. A related collection is the Latino Cultural Heritage Oral History Project Collection, which contains interviews of two of the Calvo children.